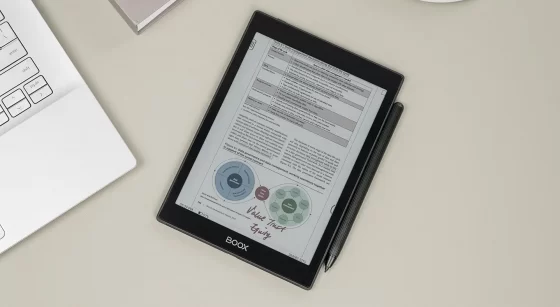 Onyx has added a new color ereader called the Nova Air C to their lineup of Android-powered E Ink tablets and e-notebooks.
The Nova Air C is Onyx's third commercial color E Ink device, and it replaces the Nova3 Color that was released about this time last year.
From a hardware and design standpoint it's basically the same as the Nova Air that was released last fall, but it has a 7.8-inch color E Ink screen instead of a standard monochrome screen, and it's the first ereader I've seen that uses E Ink's new On-Cell Touch technology that's supposed to increase contrast and improve screen clarity.
In fact Onyx claims the screen on the new Nova Air C has 30% better contrast and 15% more color saturation compared to the screen on the previous generation Nova3 Color (but they also note the contrast difference with the frontlights off is only 6%).
Onyx also added a warm frontlight to the Nova Air C, whereas their previous generation color models only had cool-colored frontlights, and it supports Onyx's magnetic accessories, including a cover that adds page-turn buttons.
The device runs Onyx's customized software that's based on Android 11, and like other Boox products it's open to install Android apps. It also comes with a stylus pen for taking notes and writing on the screen.
The new Nova Air C is available to purchase from Onyx's website for $419.99, but it ships from China. It'll probably be available on Onyx's Amazon store in a week or two.
Onyx Nova Air C Official Unboxing
Introducing Boox Nova Air C