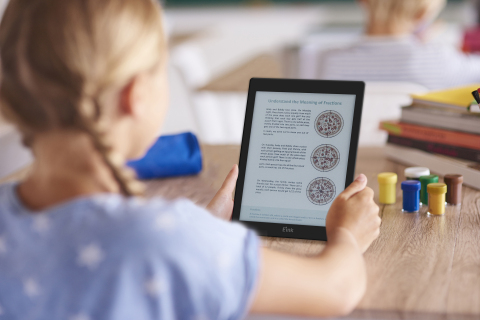 Yesterday E Ink announced the launch of a new touchscreen technology for ereaders and e-notes that improves contrast of E Ink screens by 40% for color Kaleido screens and 30% for black and white Carta screens.
The new touchscreen that E Ink has developed is called On-Cell Touch. They don't give any technical details about it, but apparently it's cheaper than traditional capacitive touchscreens and it can be used with both flexible and glass-based E Ink screens.
This is a big deal for E Ink and I can't wait to see the results. As I noted earlier in the year, it's gotten to a point where contrast of E Ink screens has consistently gotten worse over the past several years, and it's not E Ink's fault, really. It's just that these ereader companies keep choosing to put more layers over the front of E Ink screens that makes them look worse. Now E Ink has an answer for it.
E Ink screens looked better in 2014 with devices like the Kobo Aura H2O and Kindle Voyage. Contrast was better on those two devices than any ereaders released since. Maybe we can finally get new Kindles and Kobos with better contrast than devices released way back in 2014.
I've been complaining about capacitive touchscreens reducing clarity of E Ink screens for years, and now E Ink is admitting as much by saying there's a 30% difference in contrast with their regular black and white screens.
Hopefully ereader companies will start using these new touchscreens and stop putting more clarity-degrading layers over the E Ink screen like Amazon did with the plastic front layer over the latest Kindle Paperwhite.
E Ink says the new On-Cell Touch ePaper module will become a standard product for use in ereaders and e-notes moving forward so hopefully someone will release a new device that uses this new technology soon.