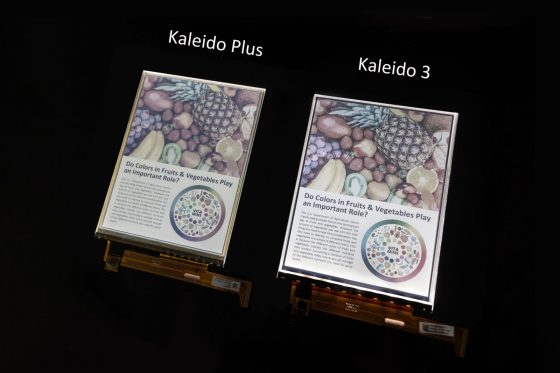 A couple days ago E Ink issued a press release announcing the release of their next generation color displays called Kaleido 3.
They don't really give many details about the improvements; they just say color saturation has increased by 30 percent compared to their previous generation Kaleido Plus screens, but they don't say under what lighting conditions.
The new Kaleido 3 screens are available in several common sizes, including 7.8-inches, 10.3-inches, and 13.3-inches.
The Kaleido 3 screens still support 16 levels of grayscale and 4096 colors like previous iterations, and it's still a black and white screen with a color filter array placed over the top so the color resolution is considerably lower (100 ppi) than the black and white resolution (300 ppi).
The new screens also have a new and improved frontlight designed by E Ink called ComfortGaze that's supposed to reduce the amount of blue light reflected off the screen.
They fail to give any details beyond that, but you can see a difference in the picture above, although the screen on the right appears to have more light on it so it's hard to tell for sure.
Apparently this means the new Onyx Boox Nova Air C that was just released last month is already outdated because Onyx says it uses a Kaleido Plus screen with E Ink's On-Cell touchscreen. Knowing Onyx, they're probably already working on a replacement for the Nova Air C that uses E Ink's new Kaleido 3 screen.