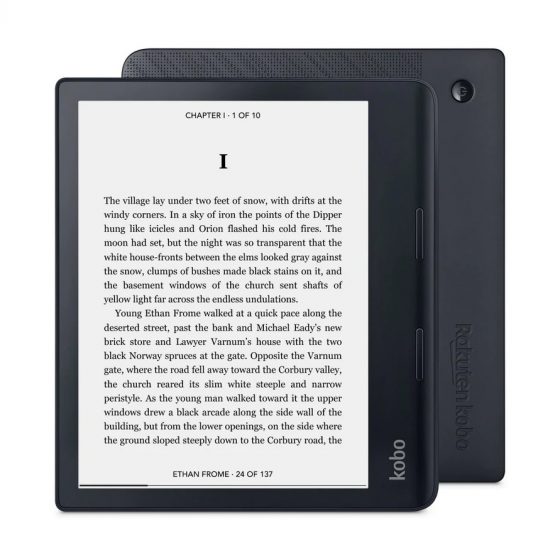 I'm hesitant to post about this because if it's anything like the last sale it probably won't last one day, but right now the Kobo Sage is $50 off at Walmart.
The Kobo Sage normally sells for $259.99 but during the sale it's going for just $209.99 with free 3-day shipping. That's a really good price for an ereader with an 8-inch E Ink screen. It makes Amazon's 7-inch Kindle Oasis look way overpriced.
The Kobo Sage was released last October along with the 7-inch Kobo Libra 2. It has a frontlight with adjustable color temperature, 32GB of storage, a quad-core CPU, WiFi, Bluetooth, and it's waterproof.
The Sage also supports Kobo's stylus pen (sold separately) for notetaking and drawing on the screen, and this model supports DropBox for transferring files wirelessly.
I meant to post a review of the Kobo Sage but I just never got around to it because I could never bond with the device long enough to want to use it. Personally, I just don't like it as much as the Kobo Libra 2, and I really dislike how Kobo made it more tablet-like and less ereader focused, and what's really irritating is the battery on my 4 year old iPad lasts longer between charges than the battery on the Sage.
In most respects I feel like it's a downgrade from the previous Kobo Forma, but plenty of people do like the Kobo Sage, and I do think the screen is really nice, so it's not a bad device if you don't mind the horrible battery life.
If you miss out on the sale, keep an eye on Walmart's website because they just did the same sale a couple of weeks ago but it lasted less than a day. You can also get 10% off anytime from Kobo's website using a coupon code.