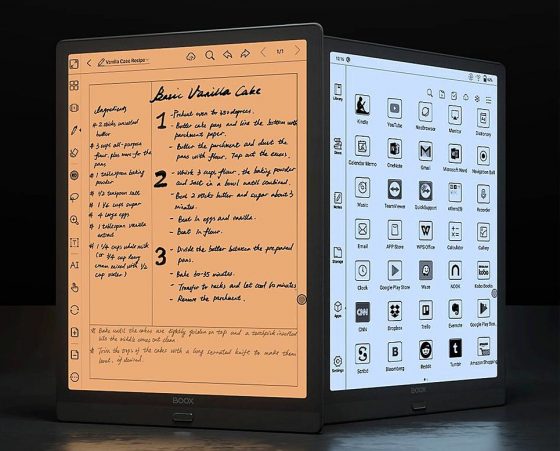 Over the past few years more choices have started to hit the market for ereaders and digital notepads with larger 10-inch E Ink screens.
For a long time most E Ink devices like Kindles have only been available with smaller screens, but now there are better options when it comes to stuff like reading PDFs and taking notes.
When new 10″ models started coming out a few years ago the prices were pretty high, but prices continue to go down as more options become available. For instance, the 10.3-inch Kobo Elipsa is currently on sale for $349.99 with a cover and a stylus, so you no longer have to spend a small fortune to get an ereader with a larger screen, and the PocketBook InkPad Lite is even cheaper than that.
Amazon is the only ereader company that still refuses to release larger models, but if you really want to read Kindle ebooks on a 10″ E Ink screen the Kindle Android app works quite well on Onyx's devices.
List of 10″ E Ink eReaders
The second generation Note Air from Onyx is the best value in terms of overall hardware and software features for the price, and Onyx's devices are great for reading PDFs, but if you're just looking for a basic ebook reader than you may consider a simpler device from Kobo or Pocketbook.
Onyx's regular "Note" models aren't as popular now since the cheaper Note Air was released, and the Note5 doesn't have as many upgrades over the Air as the previous model. The only real difference is the design and the fact it has a plastic-based E Ink screen that's more durable than standard glass-backed Carta screens, but the front layer is still glass either way…
This is the first 10″ ereader from Kobo and it comes with a cover and a stylus pen. It's great for reading ebooks on a larger screen, and it's pretty good for PDFs, but Kobo's PDF software doesn't offer nearly as many features as Onyx's. See my Kobo Elipsa Review for more details.
This model has been on the market for a few years now but you rarely ever hear of anybody that uses one. It doesn't support a stylus and it's known for being rather slow and underpowered.
This one is a bit of an oddball with screen resolution from 10 years ago, and it does not support writing with a stylus, but it's cheap and functional and only $279.
The second generation Remarkable tablet is best suited as a notetaking and drawing device, but it can be used as a basic ebook reader as well. It doesn't support DRM so purchased books won't work on it, and the PDF reader is super basic, but it excels when it comes to writing.
Other Options
The HUAWEI MatePad Paper is another 10.3-inch ereader and notepad that is expected to get released in some markets in 2022, and there's also the PineNote, but it's more of a developer's project than an actual product at this point.