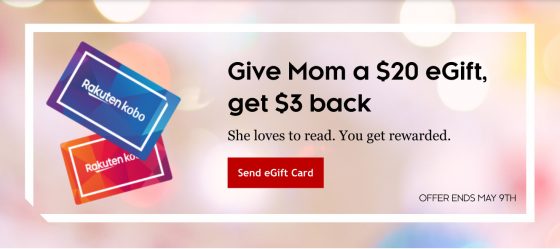 Kobo is advertising a gift card deal for Mother's Day on the homepage of their website, but the offer varies by location.
In the United States you can get $3 back when buying a $20 gift card. On the Canadian version of Kobo's website the offer is different. Canadians can get $10 back on a $60 gift card.
Either way the deal ends May 9th so it's only valid for a few more days.
It's unclear if the offer applies to multiple gift cards or if you only get a credit on one; they don't give any explanation about it and there's no terms and conditions listed so it's hard to tell.
Nevertheless, here's the link to the gift card page at Kobo. Walmart also sells Kobo gift cards but I don't know if you get the credit when buying from there. Kobo could've done a better job explaining this deal, and it's confusing because the page they link to with the banner advertising the deal doesn't have any way to purchase gift cards, it just explains how to use them, and there's not even a link to the gift card page anywhere on that page—you have to go find it yourself.
In case you missed it, Kobo's ereaders are still on sale for Mother's Day as well, with up to $50 off, but those deals end on May 8th so you'd better not delay if you want to get a Kobo ereader at a discount.