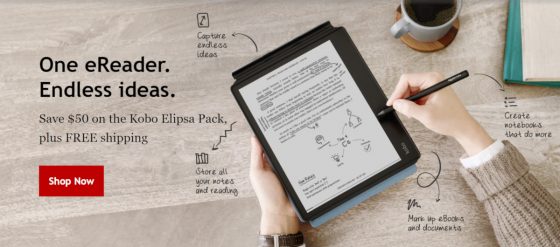 Kobo put the Kobo Elipsa on sale nearly 3 weeks ago as part of their Mother's Day deals, and they must've sold more than expected at the lower price because they've extended the sale on the Elipsa.
The Kobo Elipsa is still available for $349.99 with free shipping from Amazon and Walmart in addition to Kobo's website.
That's a really good price for a large screen ereader that also includes a stylus pen and a heavy duty case. There was a time when 6-inch ereaders sold for that much.
The Kobo Elipsa has a 10.3-inch E Ink Carta 1200 screen with a resolution of 227ppi. It has 32GB of storage, a quad-core CPU, Wi-Fi, Bluetooth, and it has a frontlight (but it's not a color adjusting frontlight).
See my Kobo Elipsa review for a closer look at the device in action.
The Kobo Elisa has been out for nearly a year now. It's a nice larger ereader for the price, but the notetaking features are just okay. They improved the responsiveness of writing with the stylus with one of the recent updates, but that's about all they've done to improve the notetaking functions over the past year. The overall note features still don't come close to other notetaking devices on the market like the Remarkable and Onyx Note devices, but the Elipsa is better as an ereader, in my opinion.
I don't know how long the sale will last but it'll be 3 weeks on Friday so it's already been on sale longer than usual.