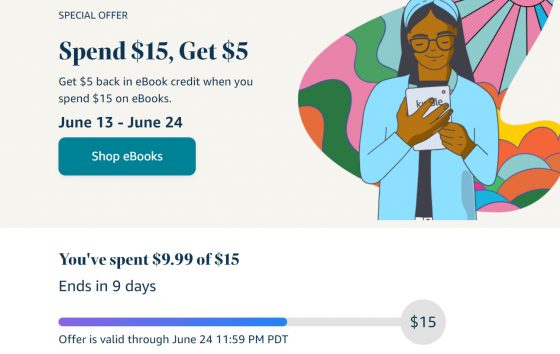 Amazon has a couple of separate promotions ongoing right now where you can earn a $5 Kindle ebook credit, but these type of deals tend to vary by account so they might not be available for everyone.
First up, Amazon has an offer where you can get a $5 ebook credit after spending $15 or more on Kindle ebooks, and that includes all ebooks sold by Amazon. The offer is valid until June 24th, and you have 21 days to spend the credit.
Again, these kind of deals sometimes differ by account so you might see different spending limits and credits with your deal, or you might not be eligible at all. They've been doing these type of promotions a lot lately, and they recently added a handy new graph that shows how much you've spent towards earning the credit so you don't have to keep track of the numbers yourself.
There's another promotion I saw mentioned over at Slickdeals where you can get a $5 Kindle ebook credit when ordering a Kindle ebook using Alexa on an Echo device.
That offer runs until December 31, 2022 so you have plenty of time to earn that $5 credit. See the terms and conditions page at Amazon for the full details on the offer. It's limited to US residents and it can only be redeemed once, and it won't work using Alexa in the Amazon app—you have to use an Amazon Echo device.
What do you think of these ebook credit offers that Amazon has been doing lately? I like how they've lowered the spending limit this time around (last time it was "Spend $26, get $6 back"), so this is definitely a better deal, provided you get the same offer. It's kind of annoying how the terms can sometimes vary by account, though.