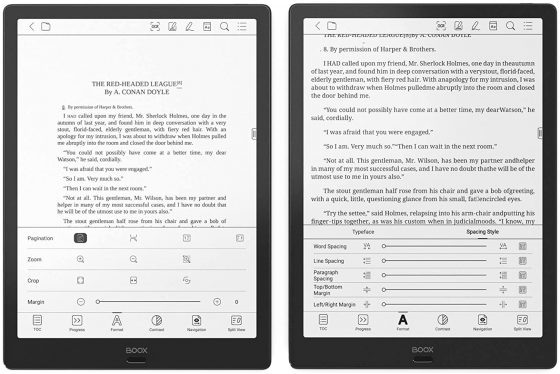 Onyx has uploaded a new YouTube video (embedded below) with some useful tips to improve the PDF reading experience on Boox devices.
For years I've been saying Onyx's devices are the best ereaders when it comes to reading PDFs. The Boox PDF software has a lot more features than other devices, especially when it comes to customizing the layout and navigating PDFs.
You can crop margins and set things up so the page breaks down into different quadrants to easily read and navigate PDFs with multiple columns.
The Wacom touchscreen is also a benefit for writing handwritten notes directly onto PDFs, and Onyx offers several different ways to export annotated PDFs.
There's also the option to view two PDFs side-by-side, or you can view the same PDF in two windows, or use one window for notes and one to display the PDF. Onyx's Max models are the best for that because of the larger 13.3-inch E Ink screen, but it works well on their 10.3-inch Note models too.
I've tried a bunch of different devices and PDF-reading apps on iOS and Android over the years and I've never seen anything with anywhere close to as many features as Onyx's PDF software. There are so many different settings and modes it can take a while just to figure out how everything works.
For more tips see my Onyx Note PDF Review from 2019. Not much has changed since then, and I cover more details than the video below.
Tips to Improve PDF Reading on BOOX