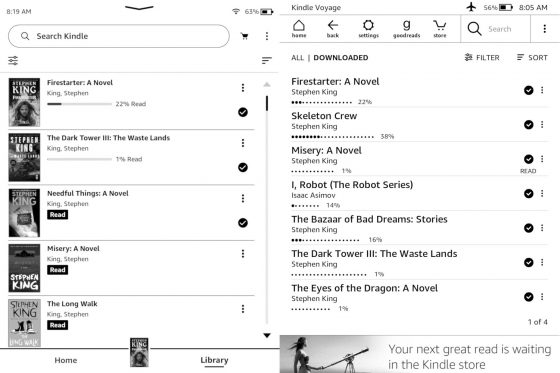 Ever since Amazon started changing the user interface on Kindle ereaders, one of the biggest complaints from Kindle users has been the removal of the old list view from the library.
The new interface still has the option to use list view, but they reformatted it to show book covers now, whereas the old list view just showed a list of book titles with the author below and no covers.
The new list view only shows four titles at once on 6-inch Kindles, and five on the larger Paperwhite 5 and Kindle Oasis. With old list view you could see at least seven titles at once on 6-inch Kindles (and that's with an ad-supported Kindle; I'm guessing the non-ad versions show eight).
I've seen a lot of complaints about the new layout, but I actually like the new list view format (but I also like the old layout without covers too).
I kind of have a different take. Ever since the new interface came out, I can no longer stand grid view where it only shows covers. I don't like how some covers are different sizes, and how ugly the generic collections and personal document covers look. Frankly, it's an eyesore, and the lack of consistency is annoying.
With list view it's easier to focus more on the titles of the books than the covers, but I don't know why they had to make the text so small—there's tons of wasted blank space with the new list view.
I never used the old list view much, but lately I have my old Kindle Voyage set to list view because of my growing dislike of cover view, and I've started to really like it. It's cleaner and easier to read than cover view, and when it comes to a device designed for reading it makes a lot of sense to have an easily-readable list view.
I can see why people have grown attached to list view and favor it over cover view, especially for long-time Kindle users that have been using list view for over a decade. It seems silly to suddenly remove it.
I don't see why they can't just offer both a list view with covers and a more condensed list view without covers on the new user interface.
The Kindle Voyage is the latest model to still support the old list view (because they stopped updating it), and it was released in 2014 so that doesn't give people who want the old list view back very many options since they'd have to get a Voyage or something even older. Hopefully at some point Amazon will bring back the old list view without covers for those that prefer it.
What do you think? Do you like the new list view layout on Kindles or do you like cover view better? Or is the old list view your preferred choice?