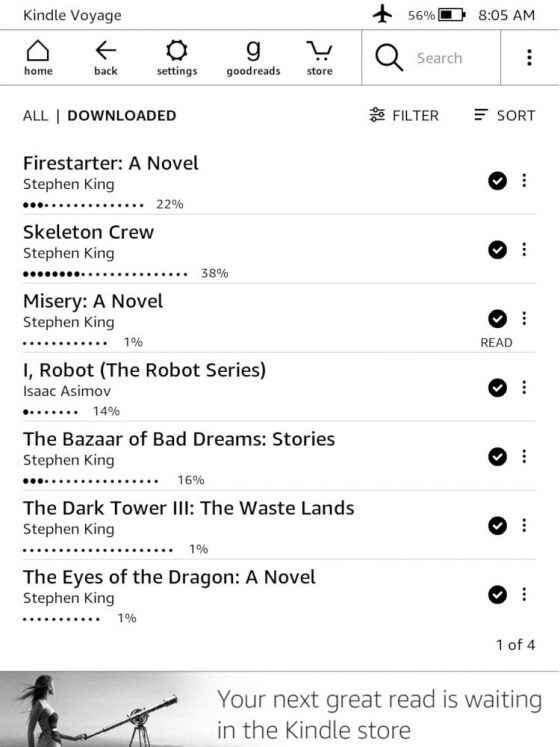 After posting about the new list view on Kindles yesterday, several people mentioned how they miss the book length feature that used to show on the old list view, aka "the dots", that gave a visual representation of each book's overall length.
It's nice to know how long a book is when you're looking to start a new one, and that was a good way to tell at a glance. But now the dots are gone and the new list view just shows a generic bar for each book that's downloaded with a percentage of how much you've read. It gives no indication how long the book is or how many pages are in the book.
Update: As noted in the comments below, it turns out the bar lengths do vary to some degree so you can still get an idea of book length with the new interface, but the bar lengths seem to be less accurate than the dot system for whatever reason, so a lot of books will have a bar with the same length, even though there might be a 250+ page-count difference.
I noticed the Kindle iPad app still has the dots that indicate book length when using list view. So why did they remove this feature from Kindle ereaders?
I know not everyone uses it because it only works in list view, but Kindles have had that feature for over ten years, and now it's gone. Again. I can remember this same thing happening about six years ago. Amazon mysteriously removed "the dots" after a software update that changed the user interface around (sound familiar?). Then people complained about it, and Amazon actually listened and brought the dots back a few updates later.
Maybe that same thing will happen again. Maybe not. They seem to be less receptive to customer complaints than they used to be, but since the iPad app still has the dots it seems odd they would remove them from Kindles. However, the Kindle Android app on my phone doesn't have the dots either. Maybe that's the direction they're heading. Or maybe it depends on the screen size how much information gets displayed.
Either way, the dots were useful and I hope they bring them back (again). How else are you supposed to quickly tell a 1000 page book from a 200 page novella? A book length indicator is a pretty important feature to have on an ereader. You don't know how useful it is until it's gone.