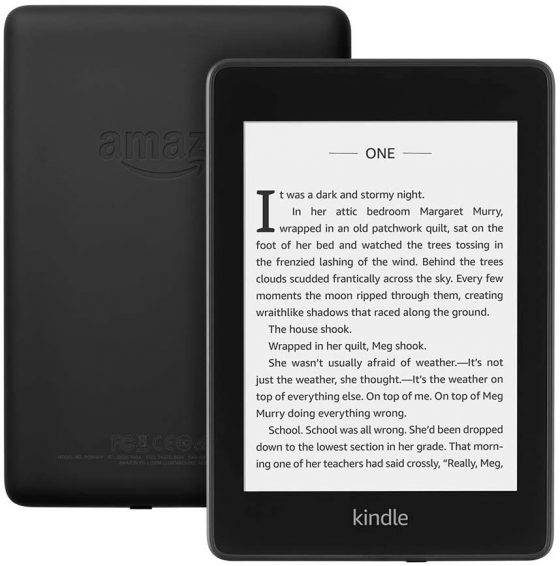 Here's a list of ten free highly-rated Kindle ebooks for the July 4th holiday.
There's not much for Kindle sales at the moment with Amazon holding back most Kindle deals for Prime Day next week, but the previous generation Kindle Paperwhite is still on sale. Update: Amazon added a couple of new deals, including the kids Kindle for $49 as an early Prime Day Deal.
Please keep in mind the free Kindle books listed below are free as of July 4th, 2022. Most of these titles are free for a limited time only and will expire in the next few days or hours before going back to the regular list price.
A good place to find more free Kindle books is on the free bestsellers list at Amazon (but for some reason the list only appears on the desktop version of the site, not the mobile version).
You don't need to own a Kindle ebook reader or a Fire tablet to read these free ebooks; you can use free Kindle reading apps for iPad, iPhone, and Android devices, or use a computer or web browser.
Subscribe to The eBook Reader Blog to keep updated on future free ebooks posts, along with ebook reader news, reviews and how to guides, or you can follow this site on Facebook and Twitter to get updates.
Kindle Deals
Kids Kindle Now $49 – Early Prime Day Deal
Get 25% off Kindle Paperwhite with Kindle Unlimited Membership
Kindle Paperwhite 4 32GB – $89.99
Kindle Paperwhite 4 32GB with Cellular – $174.99
Get 20-40% off Kindle Unlimited Gift subscriptions
Kindle Unlimited Promos – Offers vary by account
Amazon First Reads – Free eBooks for Prime Members
Get 20% off New Kindle with Trade-in
10 Free Kindle eBooks
The Tycoon Murderer by Maureen Driscoll
Mystery/Romance, 4.5 stars, 261 reviews
When Josie Matthews buys a Victorian mansion with a notorious past, she hopes to turn it into a successful inn. While she expects all the headaches of renovating an old house, she isn't prepared to be sent back in time to the site of a double-murder which occurred at the mansion in 1929. While the murders were never solved, they were believed to have been committed by Wall Street financier, David Remington, forever known as the Tycoon Murderer…
Firestorm by D.N. Hoxa
Fantasy, 4.4 stars, 186 reviews
After all, I can kill as many magical beasts as I want and not have to worry about the blood on my hands. But no matter how hard I try to run, I can never escape where I came from: the pits of Hell. Now, Hell's elite have a job for me, a job I can't refuse. A nocturnal witch is on the loose, and those are never up to anything good. She's hiding in my city, so they've decided I'm the best person for the job—together with Lexar Dagon'an…
The Miracles of Your Mind by Joseph Murphy
Nonfiction, 4.5 stars, 1825 reviews
The Miracles of Your Mind' provides specific steps to nourish your conscious mind with the tools and attitudes that will open up the infinite power of your subconscious mind. Whether you wish to conquer a bad habit, be more successful, obtain harmony in your family, or achieve goals that have thus far been unattainable, you will be given guidelines to put you on the right path. The book is full of tips and techniques to achieve productive and fruitful results and attain health, happiness, wealth, harmony and peace in life.
The Mechanic by Tom Fowler
Thriller, 4.4 stars, 2145 reviews
Eight years retired from the army, Tyler manages his PTSD and begins a job as a classic car mechanic. He's a single dad to Lexi, who's about to enter college. Life is looking up. Then, everything comes crashing down. Tyler's former commanding officer is out of prison and hellbent on revenge. Their mutual hatred has been simmering for years. When it finally boils over, everyone and everything in Tyler's life is threatened. He wanted to be a father and a mechanic…
Maggie Dove by Susan Breen
Mystery, 4.5 stars, 239 reviews
When Sunday School teacher Maggie Dove finds her hateful next-door neighbor Marcus Bender lying dead under her beloved oak tree—the one he demanded she cut down—she figures the man dropped dead of a mean heart. But Marcus was murdered, and the prime suspect is a young man Maggie loves like a son. Peter Nelson was the worst of Maggie's Sunday School students; he was also her late daughter's fiancé, and he's been a devoted friend to Maggie in the years since her daughter's death…
Capital Falling by Lance Winkless
Horror/Adventure, 4.4 stars, 319 reviews
Former SAS soldier Andy Richards is no stranger to horrors, but no training could ever have prepared him for the nightmare unfolding at home. While a viral epidemic hammers London, Andy finds himself trapped in the epicenter, forced to protect his family. Together with his young daughter, he leads a small group of survivors toward latent refuge, all the while searching for his missing son and infantryman; this is the ultimate game of survival…
Falcon's Call by Mike Waller
Science Fiction, 4.6 stars, 71 reviews
Humanity's future, the choice between a glorious future and extinction, will be decided by one man. When an unidentified vessel appears beyond Jupiter, both Earth and Mars begin a frantic race to claim it, aware that whichever planet succeeds might in so doing achieve advantage over the other. But who should they send? Joe would never consider himself the 'right' person. Drifting around the Asteroid Belt in a converted freighter, working as a surveyor and miner with a crew of oddballs and misfits who, like himself, are running away each from his or her own private demons, he cannot think of a single good reason why he should be the chosen one…
The Dragon Gate by Randy Ellefson
Fantasy, 4.4 stars, 107 reviews
Being a knight at the Renaissance Festival is easy, but when Ryan is magically kidnapped to another world, the quest might leave him dead. Mistaken for a dragon-slaying knight, he must kill the dragon queen to be sent home. At least he is not alone. Three of his friends are kidnapped beside him, all of them mistaken for the Ellorian Champions. The real heroes have been missing for years, but they may hold the key to keeping everyone alive.
Meridian File by CB Samet
Romantic Suspense, 4.4 stars, 347 reviews
Aurora Meridian refuses to be beaten again. Held back by an ankle injury and fighting to return to the top of the circuit, the tennis superstar finally has her eyes set on a major win. And she isn't about to let death threats stand in her way, especially when her security detail comes in the form of a super-sexy hunk. Mason Stone won't get his fingers burned twice. After his last client falsely accused him of unwanted advances, the former Navy Seal keeps a strictly hands-off relationship. But it's borderline torture when sparks start to fly with his new assignment and all he can do is bury the feelings…
Civil Terror: Gridlock by J. Luke Bennecke
Thriller, 4.3 stars, 66 reviews
Fed up with slogging through the treacherous LA traffic to get to work, Jake Bendel and a cunning team of experts create a roadway system for self-driving cars — preventing thousands of traffic deaths and reducing commute times from hours to minutes. For three months, no traffic congestion. No accidents. No fatalities. People finally feel safe in their cars. But should they? Especially when the dark side of humanity sees this as a chance to destroy the United States…