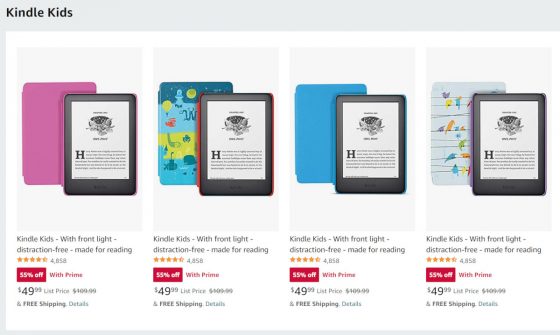 Amazon has rolled out an early Prime Day deal on the kids version of the base Kindle, and the price is the lowest it's ever been.
Right now the Kindle Kids is available for $49.99 with free shipping, and it does require a Prime membership to get the discount. The regular price is $109.99, but it frequently goes on sale for $64.99 (that's what it sold for last year on Prime Day).
It's the same exact Kindle that Amazon is selling right now for $109.99 (the ad-supported version is $89.99), so obviously it's a much better deal, and there's no difference between the kids version and the regular version so adults can use it just the same as a regular Kindle too.
What it boils down to is the kids version is a bundle package that adds some extras to the base Kindle, including a cover (available in four styles), an upgraded 2-year warranty, and a 1-year Amazon Kids+ subscription.
The kids version also doesn't have ads on the lockscreen so you're getting the ad-free version as well, which costs $20 extra when buying the regular Kindle, and the ad-free version shows the cover of the book you're currently reading on the lockscreen instead of advertisements.
All in all it's a really good deal if you just want the basic Kindle. It has a 6-inch E Ink screen with a frontlight, 8GB of storage, and it supports most of the software features of the more expensive models, but it does lack Dark Mode support and it has a lower resolution screen.
See my Kids Kindle Review for more details about this particular model and the kids bundle package.
This already throws off my Prime Day predictions from early this week where I thought the Kids Kindle would sell for $59.99 and the regular Kindle would go for $49.99. This is a much better deal than that, and it makes you wonder how low the price will go on the regular Kindle.