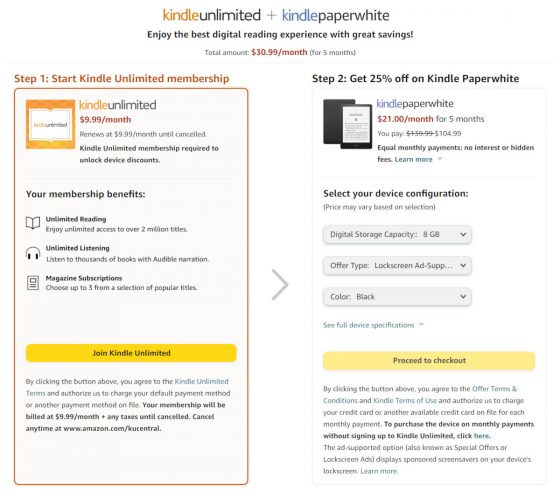 Amazon has another one of their confusing bundle deals ongoing that isn't available for everyone and lasts for who knows how long, and it only seems to apply to the 8GB version of the Kindle Paperwhite.
But if you're eligible for the deal and you're willing to go along with the stipulations, you can get a new Kindle Paperwhite for $104.99 with lockscreen ads ($119.99 without). That's the lowest price the Kindle Paperwhite 5 has sold for so it's a good deal if you want a Kindle Unlimited subscription.
It's unclear if you can get the deal with a free trial of Kindle Unlimited or if you have to signup for the monthly plan, and they fail to mention how long you have to commit to subscribing to Kindle Unlimited to get the deal. You also have to pay in 5 monthly payments to get the deal, so maybe you have to subscribe to KU for at least that long too.
Yeah, these deals are confusing. Unless you want a new Kindle Unlimited subscription, it would be easier to just wait for Amazon's Prime Day sale next week. But if you don't have Prime this is a good way to get a new Kindle at a similar discount.
I noticed a couple of really odd details about this offer. First, among the Kindle configuration choices there's the option to select a color, but the current Kindle Paperwhite only comes in black so that makes a lot of sense. Second, there's also an option to choose storage capacity, but the offer only applies to the 8GB model so there's only one choice to make, same as the color.
You can check Amazon's Kindle Unlimited page to see if you are eligible for this offer. I didn't see this deal advertised anywhere; I just noticed a banner at the bottom of the KU signup page.
See my Kindle Paperwhite 5 review for more details about the device itself.