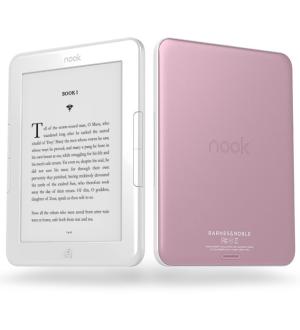 Barnes and Noble has released a new version of the Nook Glowlight 4 that features a white front and a pink back.
They're calling it the Nook Glowlight 4 Pearl Pink Limited Edition and it's available to pre-order now. The release date is July 26th. Since it's a Limited Edition they say it's only available while supplies last, so who knows how long it will be around.
It's the same price as the original black Glowlight 4 that was released last December, which normally sells for $149.99. But currently both are on sale for $119.99 with free shipping.
Aside from the color difference, it's exactly the same as the black version of the Glowlight 4. It has a 6-inch 300ppi E Ink screen and a frontlight with adjustable color.
There's 32GB of storage space, it has a USB-C connector and page buttons, and WiFi for connectivity. I think this model's software is based on Android 8.1, with a quad-core 1.5GHz CPU.
This isn't the first time that Barnes and Noble has released a limited edition Nook available in a different color. It's nice to have different color choices when buying so maybe they should start doing this more often.
On a side note, why does Barnes and Noble still insist on using such low resolution images on their website for Nooks? A 300 x 330 fuzzy image is the best picture we can get of the new Nook. What year is this, 2004?