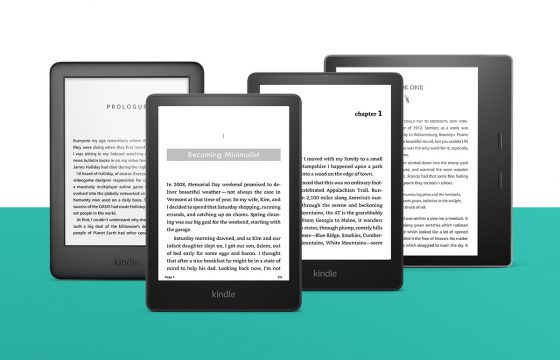 I thought it would be fun to try and guess what new Kindle ereaders Amazon is going to release in 2022, so here it goes…
With Prime Day in the rear-view mirror, I would say that a new entry-level Kindle is almost certainly going to get released in the next couple of months. That's the most obvious one since it has been out for over 3 years now, and the price was lower than it's ever been for Prime Day, so it's days are likely numbered.
The Kindle Oasis 3 is also over three years old now, and its features are lagging behind the less expensive Kindle Paperwhite 5, so it makes zero sense to keep it around for another year in its current state, especially at such a high price.
But the biggest question is will Amazon finally release a new model? They've been offering a basic Kindle, a Kindle Oasis, and a Kindle Paperwhite for over 6 years now. I think it's time for something new…
10.3″ Kindle eNote
I think this year is the year that Amazon finally releases a large screen Kindle with notetaking capabilities. Every other established ereader company, except Barnes and Noble (do they really count?), offers a 10.3-inch ereader, so why shouldn't Amazon?
Earlier this year Remarkable announced they are now a billion dollar company, and they've sold over 1 million Remarkable paper tablets, so at this point I think it's going to be hard for Amazon to continue to ignore that market, especially when they already have the infrastructure in place to make things work. Just add a notetaking app to a new large Kindle. It's not rocket science.
Kindle Oasis 4
I think it's time for Amazon to release a new Kindle Oasis with a reworked design. The contoured back concept doesn't make any sense after they ditched the magnetic cover idea that leveled the back, and they've been using the same exact design since 2017 so it's time for a change.
I think the screen size will go up a little, they'll do obvious upgrades like adding a USB-C port and increasing battery life, and they'll probably add wireless charging like the Signature Edition Paperwhite. I also think there's a chance they could add stylus support for notetaking like Kobo did with the Kobo Sage.
Entry-Level Kindle
The current entry-level Kindle has been on the market for longer than any entry-level Kindle since the Kindle was first released in 2007. Amazon used to replace them every year or two with a new model, but those days are long gone.
I don't think they'll change much with the next model. They've been using the same low resolution 800 x 600 screen since 2007 so that's probably not going to change now, even though Amazon is the only company still using such low resolution 6-inch screens. They'll probably just revise the design slightly and add a USB-C port and call it good. I really wish they'd offer a 300 ppi entry-level model with an indented screen to maximize screen clarity and contrast, but that's not going to happen.
What new Kindles do you think Amazon will release in 2022?