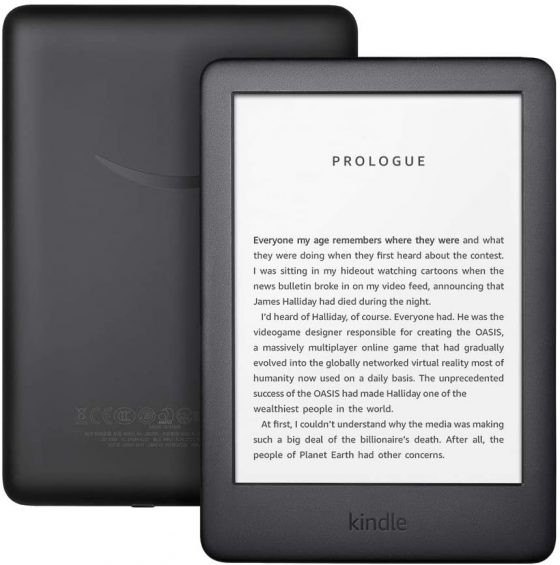 Here's a list of ten free highly-rated Kindle ebooks to help get the weekend off to a good start.
Woot also has some refurbished Kindles on sale again. The Kindle Paperwhite 3 is $29.99 and the Paperwhite 4 is $44.99. Update: Amazon put the Kindle Paperwhite and Kindle Oasis on sale on Sunday so those links have been added too.
Please keep in mind the free Kindle books listed below are free as of August 13th, 2022. Most of these titles are free for a limited time only and will expire in the next few days or hours before going back to the regular list price.
A good place to find more free Kindle books is on the free bestsellers list at Amazon (but for some reason the list only appears on the desktop version of the site, not the mobile version).
You don't need to own a Kindle ebook reader or a Fire tablet to read these free ebooks; you can use free Kindle reading apps for iPad, iPhone, and Android devices, or use a computer or web browser.
Subscribe to The eBook Reader Blog to keep updated on future free ebooks posts, along with ebook reader news, reviews and how to guides, or you can follow this site on Facebook and Twitter to get updates.
Kindle Deals
Kindle Paperwhite 5 – $109
Kindle Paperwhite Signature Edition – $149
Kindle Oasis 3 – $199
Kindle (2016) – $27.99
Kindle Paperwhite 3 – $29.99
Kindle Paperwhite 4 – $44.99
Kindle Oasis 1 – $79.99
Get 20-40% off Kindle Unlimited Gift subscriptions
Kindle Unlimited Promos – Offers vary by account
Amazon First Reads – Free eBooks for Prime Members
Get 20% off New Kindle with Trade-in
10 Free Kindle eBooks
Little Girls Sleeping by Jennifer Chase
Thriller, 4.5 stars, 3448 reviews
An eight-year-old girl, Chelsea Compton, is missing in Pine Valley, California and for Detective Katie Scott it's a cruel reminder of the friend who disappeared from summer camp twenty years ago. Unable to shake the memories, Katie vows she won't rest until she discovers what happened to Chelsea. But as Katie starts to investigate—her PTSD flashbacks kept at bay with the help of her loyal ex-military dog, Cisco—the case reveals itself to be much bigger and more shocking than she feared. Deep in the forest, she unearths a makeshift cemetery: a row of graves, each with a brightly coloured teddy bear…
Runaway Fate by Elizabeth Hunter
Fantasy, 4.6 stars, 2380 reviews
Katherine wasn't looking for anything extraordinary in her life. She had a job she loved, a husband she adored, and a home in the beautiful seaside town of Moonstone Cove. Okay yes, she worked too much and had fallen out of touch with all her friends, but that happened to everyone, right? And sure, she was feeling a little creaky in the mornings and couldn't drink coffee after noon, but that was just life in middle age. Four minutes was all it took for fate to run away with anything that resembled normal…
The Bones of Amoret by Arthur Herbert
Mystery, 4.4 stars, 270 reviews
Amoret, Texas, 1982. Life along the border is harsh, but in a world where cultures work together to carve a living from the desert landscape, Blaine Beckett lives a life of isolation. A transplanted Boston intellectual, for twenty years locals have viewed him as a snob, a misanthrope, an outsider. He seems content to stand apart until one night when he vanishes into thin air amid signs of foul play. Noah Grady, the town doctor, is a charming and popular good ol' boy. He's also a keeper of secrets, both the town's and his own…
Bound by Blood by Piper Davenport
Romance, 4.4 stars, 1054 reviews
Dr. Samantha Moore is one of the youngest and most acclaimed researchers in the world. Her specialty is blood and she has been recruited by the largest pharmaceutical company in Scotland. For what purpose she cannot begin to imagine, but in an attempt to break out of her painfully shy shell, she throws caution to the wind and leaves her family and best friend behind in Savannah. Dr. Kade Gunnach is taking a chance hiring an outsider, but he's desperate to find out how to help his sister…
An Embarrassment of Itches by M. K. Dean
Mystery, 4.8 stars, 120 reviews
As a house-call vet, Ginny Reese has seen her share of the weird and wacky. But nothing in her previous experience could have prepared her to find one of her clients floating in her own swimming pool. Local artist Amanda Kelly was extremely wealthy with her share of secrets. By naming Ginny as her heir, not only did she make Ginny the number one suspect, but she painted a big bull's eye on her friend's back as well. With her trusty German Shepherd at her side, it's up to Ginny to find the real killer and prove her innocence to the sheriff. The new sheriff. Who happens to be her ex…
The Syndicate by Sophie Davis
Teen & Young Adult, 4.5 stars, 408 reviews
Would you risk the future to discover your past? As a Runner for the underground syndicate that controls the timewaves, Stassi's job is to seamlessly slip through the past to acquire relics once lost in history. In a future where time travel has been outlawed, a black market exists for anyone with the money, connections, and nerve to request items from days past. But Stassi has a mission of her own. Growing up as a ward of the state, Stassi clung to the locket her mother placed around her neck the day she vanished…
Redemption by Brian Hartman
Medical Thriller, 4.8 stars, 55 reviews
Bryce Chapman is an Emergency Medicine Physician in Indianapolis, married with two kids and at the peak of his career. His comfortable life is threatened on all fronts when a patient he sees dies unexpectedly and a life saved while on vacation in the Bahamas turns into an attack on his freedom. He is sued for malpractice, in danger of losing his job, and a warrant is out for his arrest. He must determine what caused his patient to die in order to stop a massive malpractice settlement…
Trans Galactic Insurance by Andrew Moriarty
Science Fiction, 4.3 stars, 582 reviews
The Galactic Empire disappeared a lifetime ago. Jake Stewart doesn't care, he needs to earn a living. He fled his station in the outer Belt, enrolled in the merchant academy, and snagged a scholarship. The future looks bright. But a crooked boss, some paperwork shenanigans, and a freeloading best friend put him in a bind. When he's accused of a murder he didn't commit he goes on the run from the Planetary Militia. There's only his wits and a suspiciously helpful pretty girl between him and jail. Can he trust her to prove his innocence? Or does she have another agenda?
The Reluctant Bride by Monica Murphy
Romance, 4.4 stars, 214 reviews
One moment I'm the forgotten daughter of one of the most wealthy families in the country, and the next I'm the blushing bride in an arranged marriage. My fate is sealed in my wedded union with a complete stranger. In public, Perry Constantine is the life of the party. Easygoing. Adored. In private, he's brooding. Dark. Angry. But so am I. It's a contest of wills to see who will break in the bedroom first, and while I try to remain strong, I find myself craving the very man I swore to hate…
Knee Deep by Mac Fortner
Adventure, 4.5 stars, 1076 reviews
When Cam Derringer loses his wife, his law license, and his home, he has some adjusting to do. After settling into a houseboat in Key West, he finds himself unable to let go of his wife's murder. Desperate for answers, he starts a quest to find the ones responsible for her death. The deeper he dives into the criminal underworld, the more dangerous the situation becomes. But Cam won't stop until everyone responsible pays their fair share. Even if it means skirting the law now and then. When the FBI and the Cartel come after him, Cam realizes he might be in over his head. Can he uncover the truth about his wife's murder? Or will he become the killer's next victim?