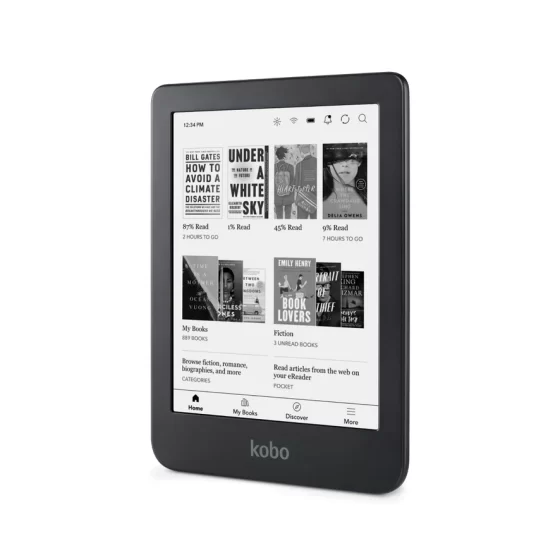 Kobo has officially revealed their latest new ebook reader, the Kobo Clara 2E, and it's available to pre-order from Kobo's website, with the release date set for September 22.
The Kobo Clara 2E is a 6-inch ebook reader and a follow up to the Clara HD that has been on the market for the past 4+ years. It's largely the same as the Clara HD, and it looks almost exactly like it, except they moved the power button from the bottom to the back, and now the back of the device is blue instead of black (but the front is still black).
The price is listed at $129.99 in the US, $159.99 in Canada, and £129.99 in the UK so the price is $10 higher than the Clara HD.
As predicted, Kobo's marketing team is going all in on the eco-conscious aspect of the new Kobo Clara 2E and it's the number one thing they talk about. I guess they ran of ideas that are actually relevant to reading.
In fact, most of the new features and changes from the Kobo Clara HD have little to do with reading. They added audiobook support, along with more storage space for audiobooks (16GB), a USB-C port, and they made the Clara 2E waterproof (IPX8 rated).
The one reading improvement made is they're using a newer Carta 1200 screen so contrast should be a bit better than the Clara HD, and it still has an indented screen so contrast should be better than most flush screen models. The other screen specs are the same so it has 300ppi and a frontlight with adjustable color temperature.
It appears to still use the same 1GHz CPU, which is good for battery life at least. They finally added support for dual band WiFi, and it also has Bluetooth for streaming audiobooks. Dark Mode is officially supported with the Clara 2E as well.
The Kobo Clara 2E is available to pre-order now from Kobo's website. Keep an eye on Kobo's Amazon store and Kobo's Walmart store if you'd rather order from one of those retailers. The Clara 2E isn't listed on either of those websites yet but it mostly likely will be before the release date.
Kobo Clara 2E Marketing Video