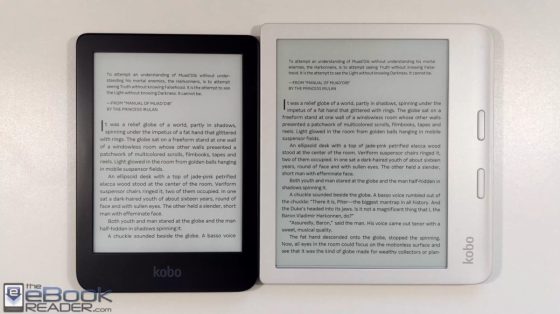 Now that the Kobo Clara 2E has been released, I thought it would be helpful to post a comparison review between it and the Kobo Libra 2 for those that are trying to decide between the two.
The differences mostly come down to the design and screen size. The software on both units is the same, except for the fact that the Clara 2E is mysteriously missing three font types: Gill Sans, Malabar, and Caecilia; and the Libra 2 offers landscape mode, while the Clara does not.
Both devices have 1GHz processors so overall performance is virtually identical as well. There are a couple of minor hardware differences (noted below), and the screen background appears to be lighter on the Clara 2E, but that's probably just an optical illusion with the white border on the Libra 2—it's hard to tell, but both devices have E Ink Carta 1200 screens with 300 ppi so they should look the same.
Basically it comes down to a smaller device that's more portable versus a larger device with page buttons. Both are waterproof, both have USB-C ports, both have frontlights with adjustable color temperature, and both offer the same general reading experience.
See my Kobo Clara 2E review and Kobo Libra 2 review for more details about each model.
Summary of Differences
The Kobo Libra has a 7-inch screen with page buttons and the Kobo Clara 2E has a 6-inch screen with no page buttons.
The Kobo Clara 2E has 16GB of storage and the Libra 2 has 32GB.
The Kobo Clara 2E supports dual band WiFi; the Libra 2 only supports single band WiFi.
The Kobo Libra 2 has a rotation sensor to switch hands and to use landscape mode; the Clara does not support rotating or landscape mode.
The Kobo Libra 2 weighs 215 grams and measures 144.6 x 161.6 x 9 mm; the Kobo Clara 2E weighs 171 grams and measures 112.05 x 159.02 x 8.66 mm.
The Libra 2 is available in black or white, and the Clara is available in black only (the back is blue).
The Kobo Clara 2E sells for $129 and the Kobo Libra 2 sells for $179.
Video Comparison