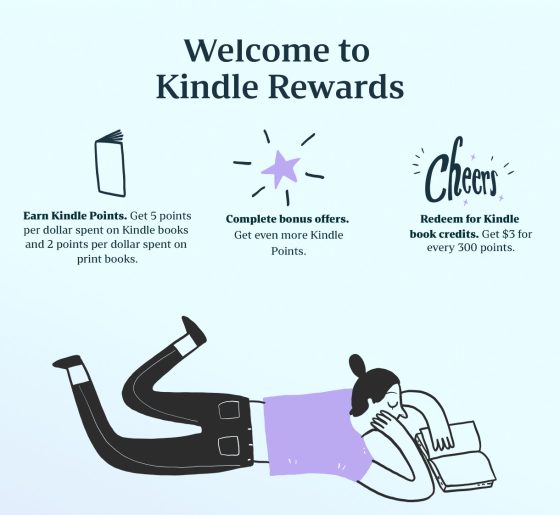 Here's a list of ten free highly-rated Kindle ebooks to help get the week off to a good start.
Amazon also has a promotion as part of the new Kindle Rewards Beta program where you can get $3 worth of credit after spending $10 on Kindle ebooks. The offer runs through November 9th.
Please keep in mind the free Kindle books listed below are free as of November 7th, 2022. Most of these titles are free for a limited time only and will expire in the next few days or hours before going back to the regular list price.
A good place to find more free Kindle books is on the free bestsellers list at Amazon (but for some reason the list only appears on the desktop version of the site, not the mobile version).
You don't need to own a Kindle ebook reader or a Fire tablet to read these free ebooks; you can use free Kindle reading apps for iPad, iPhone, and Android devices, or use a computer or web browser.
Subscribe to The eBook Reader Blog to keep updated on future free ebooks posts, along with ebook reader news, reviews and how to guides, or you can follow this site on Facebook and Twitter to get updates.
Kindle Deals
Spend $10 on Kindle eBooks, Get 300 Points – Select accounts, ends November 9th
Kindle Paperwhite 3 – $19.99 refurbished
Get 20-40% off Kindle Unlimited Gift subscriptions
Kindle Unlimited Promos – Offers vary by account
Amazon First Reads – Free eBooks for Prime Members
Get 20% off New Kindle with Trade-in
10 Free Kindle eBooks
Kibbles and Death by S.A. Kazlo
Mystery, 4.5 stars, 67 reviews
After a nasty divorce, Samantha Davies has finally gotten her life back on track. She enjoys her hobby of hooking—rug hooking, that is—and is fulfilling a lifelong dream by writing her first children's book, featuring her dachshund, Porkchop. But the pleasant pace of her life in small-town Upstate New York is suddenly shattered when she finds the dead body of the local pet shelter owner—murdered and covered in kibble! While Calvin Perkins wasn't the most beloved man in town, Samantha's shaken to think there's a killer among them. Even more so when her octogenarian neighbor's boyfriend becomes the police's number one suspect and her neighbor pleads with Sam to help him. ..
Saving Wes by Cynthia Dees
Romance, 4.5 stars, 95 reviews
Question: what is high-powered banker, Wes Cartwright, to do when someone dumps the animals from a petting zoo on his family's abandoned ranch in Montana? Answer: Head home to Apple Pie Creek, Montana. Question: what is Florida native and Christmas card artist, Felicity Perez, supposed to do when her new boss insists on sending her somewhere cold and snowy to inspire new designs? Answer: visit her cousin in some place called Apple Pie Creek, Montana, of course…
Steal Away: An Adam Dutton & Beverly Laborde Mystery by BV Lawson
Mystery, 4.4 stars, 116 reviews
When Beverly Laborde becomes a con artist extraordinaire to extract vengeance on the man who shut down her grandmother's antiques business and sent her to an early grave, she comes face to face with the handsome but haunted Vermont police detective, Adam Dutton, who doesn't know whether to arrest her or ask her out on a date. But Beverly and Adam soon face an even worse problem than their inconvenient growing attraction toward each other: they have both incurred the wrath of the wealthy and formidable Reginald Forsyth…
The Sweetest Words by Laura Ann
Romance, 4.5 stars, 208 reviews
When Aspen's father finally hands her the keys to the family bakery, she knows it's her time to shine. With her sisters at her side, she remodels and re-themes their little store on Main Street in order to keep the family legacy alive, all while keeping the public ignorant of her father's illness. And she knows just how to kick start the grand re-opening in a big way…a review from 'Eat It Austin'. Austin has built his entire career on a facade. He adores food, but his struggle with dyslexia keeps him from actually writing any of the articles under his name…
So Much Bull by Alex A. King
Satire Fiction, 4.6 stars, 276 reviews
Growing up as a Greek-American kid in Salem, Oregon, Penny Post is used to being yanked in all directions. Her life of not being quite good enough has left her recently divorced and on the hook for cat support; but there's still oodles of sass and can-do attitude left to drag herself home for cake after her hairstyling gig ends in a blazing bonfire. (She did warn her client that hairspray and cigarettes don't mix; she even jabbed her brush at the No Smoking sign.) Good news: Her Greek grandmother has a lead on a new job…
Free From Sin by Karen Ann Hopkins
Mystery, 4.5 stars, 256 reviews
Sheriff Sadie Mills navigates the challenges of single motherhood while solving crimes in the rural community of Possum Gap, Kentucky. The recent trailer shootings in her jurisdiction have her on edge, and the new coroner, a Yankee transplant from the east coast, is still adjusting to life in the wilderness when all hell breaks loose. Cases stemming from an out-of-control hillbilly clan, sex trafficking, and a murder in the nearby Amish community collide, and Sheriff Mills finds herself in a race to stop a serial killer before they strike again…
Minus America by E.E. Isherwood
Science Fiction Adventure, 4.4 stars, 345 reviews
The attack only takes a few minutes to sweep from coast to coast. When it ends, nearly everyone on mainland USA is gone. Every policeman. Every housewife. Every trucker. Everyone. A continent free for the taking… Ted MacInnis is a backup pilot on Air Force Two, over the Atlantic, when it happens. A warrior by nature, he can do little but listen as the radio signals from his homeland fade away and die. However, one last call with his niece convinces him the attack left some behind. She might have survived, and he makes it his mission to find out…
Witch in the White City by Nick Wisseman
Fantasy, 4.3 stars, 60 reviews
Neva's goals at the 1893 World's Columbian Exposition in Chicago are simple. Enjoy the spectacle—perhaps the greatest the United States has ever put on (the world's fair to end all world's fairs!). Perform in the exposition's Algerian Theatre to the best of her abilities. And don't be found out as a witch. Easy enough … until the morning she looks up in the theatre and sees strangely marked insects swarming a severed hand in the rafters. Before she can scream, the bugs drop and swarm her…
Deep Six: A Novel by D. P. Lyle
Mystery/Thriller, 4.3 stars, 931 reviews
First loves are never forgotten. Ever. Certainly not for Tommy "Pancake" Jeffers. His first-kiss, sixth-grade love, Emily, who he has not seen since grammar school, is sliding toward divorce in the artsy Gulf Coast town of Fairhope, Alabama. Longly Investigations has been charged with looking into the finances involved. When Emily doesn't appear for their nervously anticipated meeting, Pancake's radar goes on high alert. Her body, along with that of Jason––one of two guys she has been dating––is found murdered, execution-style, Pancake calls in Jake, Nicole, and Ray…
Deadly Paradise by Jullian Scott
Romantic Suspense, 4.4 stars, 979 reviews
Ten years ago, Lyla Masterson left a party on Terror Island and was never seen again. Her best friend, Jamie Lawrence, fled the island and the people she loved most, vowing never to return. But when her older brother decides to have his wedding on the island a decade later, Jamie is forced to return and face the ghosts of her past. She is only back a few minutes when a dead body is found. Now, Jamie is forced to make amends with the only man she has ever loved – Ryan Stevens…