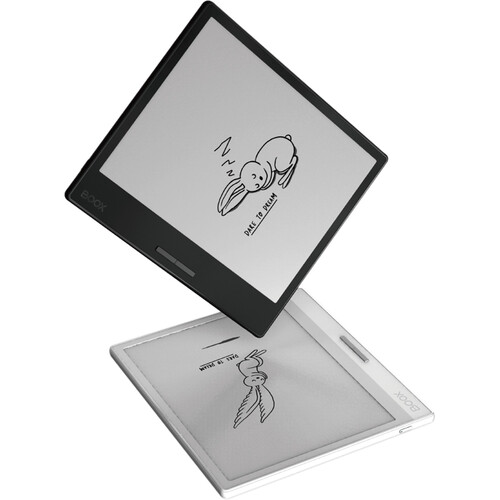 Onyx recently released the new Boox Leaf 2 ereader with a 7-inch E Ink screen and page-turn buttons, and now it's finally available to purchase from a reputable online retailer.
Both versions of the Boox Leaf 2 are available to purchase from B&H for $199.99 with free shipping. The black version is currently in stock but the white version is still listed as coming soon.
Both versions are exactly the same except for the fact the black model has a flush front screen and the white version has an indented screen, which gives the text better clarity without the added layer over the screen.
The Leaf 2 has a 7-inch 300 ppi E Ink screen and a frontlight with adjustable color temperature. It has 32GB of storage (the listing at B&H erroneously says 64GB), 2GB of RAM, WiFi, Bluetooth, a USB-C port, and a quad-core CPU. It also has a microSD card slot and it runs software based on Android 11 and is open to installing apps.
The Leaf 2 also has a built-in speaker and a microphone, along with a rotation sensor for the screen, and the battery size is listed at 2000mAh. The black version weighs approximately 185 grams and the white version weighs 170 grams.
The Leaf models don't support stylus touch like most other Onyx devices, but the price is more reasonable without it. There's a big price jump for the 7.8-inch Nova Air 2 at $339, and it doesn't even have page-turn buttons or a microSD card slot.
Until now, I didn't know Onyx's devices were sold on the B&H website. It's nice to have another legit retailer to buy Onyx devices from, and it's certainly a better alternative than buying from Onyx directly with their super shady return policy they wouldn't be able to get away with if they weren't based in China.