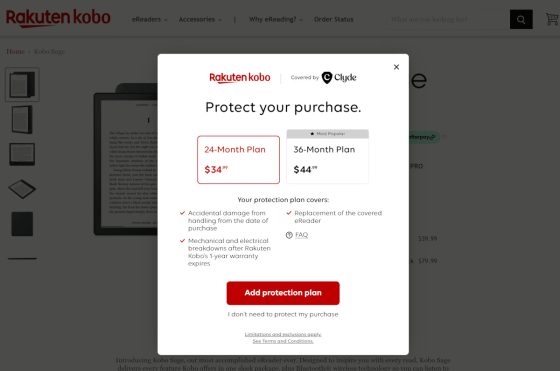 Here's something I never noticed before. Kobo now offers 2 and 3-year extended warranties on Kobo ereaders when purchasing them through Kobo's website.
The extended warranties are called the Clyde Protection Plan. Amazon offers similar protection plans for Kindles through SquareTrade so it's not surprising to see Kobo now doing the same.
Personally, I've always thought extended warranties were a ripoff and I never buy them, but these Clyde Protection Plans do cover accidental breakages so at least broken screens are covered, unlike with the standard Kobo warranty, and E Ink screens are known for cracking quite easily when dropped or if the front of the screen is impacted by something so some people will definitely get some use out of these warranties.
The price of the plan is different for each model. For example, the cheapest model, the Kobo Nia, has the option to add a 2-year plan for $14.99 or a 3-year plan for $19.99, but with the more expensive Kobo Elipsa a 2-year plan costs $39.99 and a 3-year plan costs $49.99.
Apparently the plan doesn't cover batteries or cosmetic damage that doesn't affect the usability of the device, and it doesn't cover loss or theft, but accidental damage and mechanical failure is covered.
They will replace a covered ereader one time under the terms of the warranty, and the warranty option is only available for new devices purchased directly from Kobo, and it appears to be something that's only available in the United States.
The option to select a Clyde Protection Plan appears after you add a Kobo ereader to your cart. You also have the option to add the warranty when viewing the cart if you close the pop-up box without selecting a warranty.
See the Clyde Protection Plan FAQ on Kobo's website for the full list of details along with the terms and conditions.