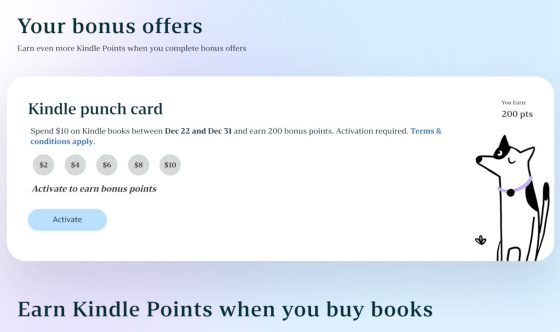 Amazon has rolled out another bonus offer for their new Kindle Rewards Beta program. If you plan on buying any ebooks this month it's worth checking into because you can basically get 25% back when spending $10 on Kindle ebooks.
After you activate the deal on the Kindle Rewards page at Amazon, the bonus offer grants 200 bonus points after spending $10 on Kindle ebooks, and since spending $10 will earn an additional 50 points you'll end up with 250 points total with this offer, which is equivalent to $2.50.
However, you have to have a minimum of 300 points in order to redeem a $3 Kindle book credit so it'll take 50 more points before you'll be able to cash in a credit.
This bonus offer runs from December 22nd through December 31st, and you have to activate the offer before it will take effect, and it's only available for accounts that are eligible for Kindle Rewards, of course (so it's U.S. only).
I like how Amazon has creatively found a way to basically offer discounts on ebooks that aren't technically allowed to be discounted, at least not in the usual sense. And it's a good way to get discounts on books that never go on sale.
Make sure to check the terms and conditions on the Kindle Rewards page for the full list of stipulations. Kindle book gift purchases are included in the offer so you can earn points when gifting Kindle ebooks as well.
It'll be interesting to see if they have any double point days during the remainder of December to stack on top of this deal, but they haven't done anything like that yet. Amazon usually sends out notifications about double point days if subscribed to their emails, but I haven't gotten an email about this offer yet, and since it requires activating first it would be easy to miss if you don't periodically check the rewards page.