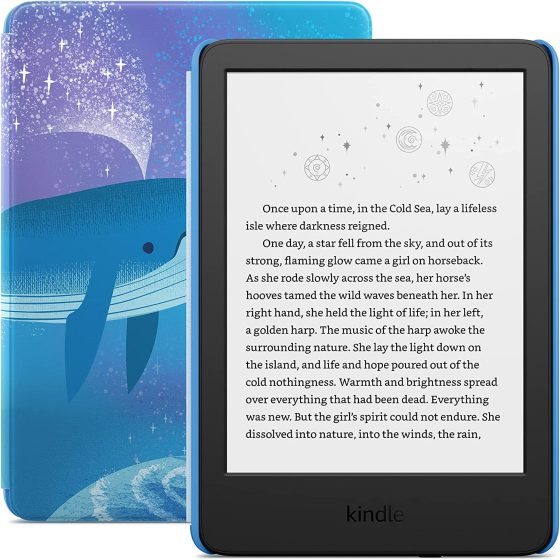 Here's a list of 10 free highly-rated Kindle ebooks for the holiday weekend.
Amazon also has a promotion ongoing through December where you can earn bonus points when buying Kindle ebooks, but the offer has to activated through Kindle Rewards Beta first.
Please keep in mind the free Kindle books listed below are free as of December 25th, 2022. Most of these titles are free for a limited time only and will expire in the next few days or hours before going back to the regular list price.
A good place to find more free Kindle books is on the free bestsellers list at Amazon (but for some reason the list only appears on the desktop version of the site, not the mobile version).
You don't need to own a Kindle ebook reader or a Fire tablet to read these free ebooks; you can use free Kindle reading apps for iPad, iPhone, and Android devices, or use a computer or web browser.
Subscribe to The eBook Reader Blog to keep updated on future free ebooks posts, along with ebook reader news, reviews and how to guides, or you can follow this site on Facebook and Twitter to get updates.
Kindle Sales
Holiday Kindle eBooks Sale – 12/25 only
Get up to 40% off Kindle Unlimited subscription
Kindle Unlimited Promos – Offers vary by account
Amazon First Reads – Free eBooks for Prime Members
Get 20% off New Kindle with Trade-in
10 Free Kindle eBooks
The Final Flight: by James Blatch
Thriller, 4.5 stars, 924 reviews
A deadly crash, a government conspiracy, a lone pilot with one chance to uncover the truth. Project Guiding Light is NATO's biggest secret. A system to take long-range bombers deep into the Soviet Union, undetected. There's just one problem. And veteran engineer Chris Milford has found it. A lethal flaw that means aircrew will pay a terrible price. Undermined and belittled by a commanding officer who values loyalty over safety, Milford is forced down a dangerous, subversive path…
The Dragon Ring Fil Reid
Fantasy, 4.6 stars, 119 reviews
Gwen goes to scatter her Arthurian scholar father's ashes on Glastonbury Tor, and in the ruined church tower, she picks up a gold ring embossed with a dragon emblem. This snatches her back 1500 years into the dangerous world of the Dark Ages. The Merlin tells her she's destined to become the Guinevere – of the legends her father devoted his life to studying – and fulfill a prophecy by marrying Prince Arthur. Only with her help can he become the famous King Arthur…
Oh, Great! I was Reincarnated as a Farmer by Benjamin Kerei
Fantasy, 4.7 stars, 5286 reviews
What do you have when you blend a pinch of litrpg, a touch of farming simulator, a sprinkle of epic fantasy, a whole cup of Isekai, and a dash of Home Alone? You have Arnold's life. Accidentally murdered by a cleric in another universe during a botched resurrection, Arnold, a semi-pro gamer, wakes upon an altar to find himself incarnated into the overweight body of a farmer who could have been his fatter twin. He's not the hero. He's not the villain. He's certainly not the chosen one who is there to save the world. He's a clerical error…
Missing in Christmas River by Meg Muldoon
Mystery, 4.5 stars, 106 reviews
What happened to Search & Rescue volunteer Wes Dulany? That's the question on everyone's mind this fall in the small town of Christmas River, Oregon. And it's especially on the mind of pie baker extraordinaire Cinnamon Peters, who returns home after spending the summer working in Portland to find that one of the town's most beloved citizens has gone missing while looking for legendary treasure in The Christmas River National Forest…
Dragon God by Ava Richardson
Fantasy, 4.5 stars, 218 reviews
Neill Torvald is desperate to prove himself—his father's warlord kingdom depends on him. When a vicious attack on the way to the Draconis Order monastery nearly kills him, it becomes clear that grave trials await him on this path. Jodreth, the wise monk who saves his life, advises caution upon entering the sacred halls. His mission is to learn arcane magic from the monks that will help to cement his father's power, but Neill will need more than magical arts alone to navigate the challenges before him…
The Magic Sapphire by Alba Arango (
Children's Mystery, 4.7 stars, 39 reviews
Steve, Matt, and Jenny always dreamed of becoming detectives. One day, their dreams become reality when they discover an ancient treasure map written by a pirate named Elias Darby over three hundred years ago. According to legend, the dying pirate hid a magical stone with mysterious powers somewhere in the Northern California hills, with only a poem titled El Alma de Dios as the key to locating it…
Survive the Fall by Grace Hamilton
Science Fiction, 4.3 stars, 401 reviews
Greg Healy isn't fooled—this hunting trip is designed to get Greg and his father to end their feud. Not even Greg's teenage daughter or his father's hunting buddies along for the ride will be enough of a buffer to heal the rift of long-standing resentments. They've barely been dropped off in the remote Canadian wilderness when they discover their new equipment is dead with no explanation. Now they'll have to rely on each other and resort to Old West ingenuity to find their way home—before the hunter becomes the hunted…
The Cowgirl's Forever Love by Vivian Arend
Romance, 4.6 stars, 397 reviews
Lisa Coleman committed to stay in Heart Falls until her sister's baby arrives, but after that, she's moving on. She's not sure exactly what is on the agenda, so it's good to still have a few months to figure out her dreams. While she's waiting, there's no reason she can't enjoy herself with the very sexy local veterinarian. A naughty interlude with a man who knows all the right moves would be the perfect distraction from Coleman chaos: newborn baby! New dog! New found family?!
All Mine by Blake Pierce
Suspense 4.4 stars, 524 reviews
When a senator's daughter goes missing, it is a race against time as FBI Special Agent Nicky Lyons, 28, a fast-rising star in the BAU, is tasked with finding her—and with finding, per the senator's order, the top 10 abducted women most likely to still be alive. Nicky, haunted by the demons of her own missing sister, knows that time will be of the essence in bringing these girls home—if it is not already too late…
The Christmas Camel by Vered Ehsani
Romance/Comedy, 4.4 stars, 137 reviews
Mollie Stanton has no intention of ever returning home – until her boyfriend dumps her twelve days before Christmas, and her incorrigible grandmother, Duchess Delilah, calls from jail, asking Mollie to bail her out, along with her two best friends. There's just one small catch. The judge insists that Mollie be guarantor and guardian. Translation: if she wants to get out of town before New Year, she has to find out who framed Duchess Delilah. Ideally, while also avoiding the handsome but annoying vet who's staying in the Stanton Farm's guest cottage…