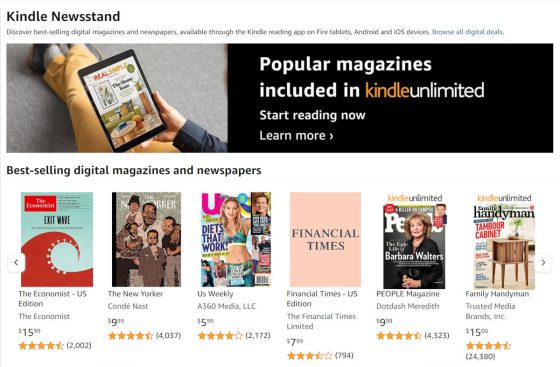 Last month I saw a news story going around about how Amazon plans to stop offering print and digital magazine and newspaper subscriptions in 2023.
If you subscribe to a magazine or newspaper on your Kindle or Kindle app, you might be surprised to find out they are going to be phased out later in 2023 (it sounds like September is the target date).
However, some magazines and newspapers will be made available through Kindle Unlimited instead, but that's reportedly only going to be an option for certain magazines and newspapers that Amazon selects.
Needless to say, this is going to cause a lot of headaches for small publishers that are being forced to relinquish a steady revenue stream in the form of subscriptions through Amazon.
There's this article by Neil Clarke from Clarkesworld Magazine that gives more details about the upcoming change.
Apparently, some periodicals will be made available through Kindle Unlimited after Amazon phases out subscriptions, but you'll have to have a Kindle Unlimited membership in order to access them, which costs $9.99 per month (but you can get it on sale for less). However, KU is only available in certain countries so that's not going to be an option for everyone.
Amazon intends to start sending out emails to subscribers in March notifying them about how the Kindle subscription service will be coming to an end in September 2023, so more details will likely be revealed then.
For those of you that subscribe to magazines and newspapers through Amazon's Kindle Newsstand, you might want to start looking for alternative methods. You can check with individual magazine and newspaper publishers to see what other options they offer.