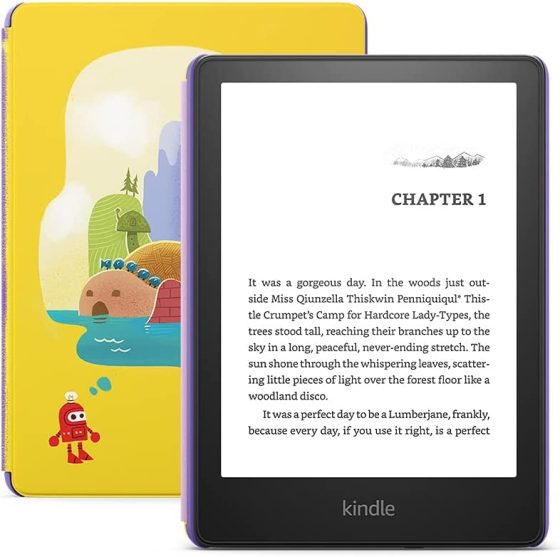 If you're looking to score a deal on a new Kindle, Amazon has both versions of the current kids Kindles on sale. As I've said before, they can be used by kids or adults. In fact you'd have to be crazy to buy a regular Kindle or Kindle Paperwhite right now because the kids versions are the exact same Kindles but at a much lower price.
The Kindle Paperwhite kids bundle is the best deal at $109 for the 8GB version. That's $50 off the regular price. The 16GB version is $119, which is also $50 off.
The 2022 Kids Kindle is on sale too. There's only one version of it, a 16GB model, and it's marked down to $84.99, which is actually the lowest price it has sold for since it was released. That's $35 off the regular price.
The 6-inch 2022 version isn't quite as good of a deal as the Paperwhite version, especially if you want to use it as a regular Kindle outside of kids mode because, unlike the Paperwhite version, this model includes ads by default, so you'd have to pay an extra $20 to get rid of the ads on the lockscreen.
As noted above, kids Kindles are the same as regular Kindles; they're basically just bundle packages that include some extras, including a free cover, an upgraded 2-year warranty (that covers accidental breakages, unlike the standard Kindle warranty), and a 1-year subscription to Amazon Kids+ for access to a library of content for kids.
See my Kindle Paperwhite review and 2022 Kindle review for more details about each model, and to watch a video review of them in action.
Kindles on Sale
Kids Kindle – $84.99 ($35 off)
Kindle Paperwhite Kids 8GB – $109.99 ($50 off)
Kindle Paperwhite Kids 16GB – $119.99 ($50 off)
Here's a YouTube video I uploaded a while back showing the Kids Kindle Paperwhite in action:
Video: Kindle Paperwhite Kids Edition