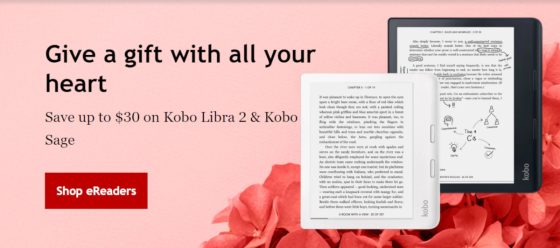 If you're looking to score a deal on a Kobo ereader, both the 8-inch Kobo Sage and 7-inch Kobo Libra 2 are currently on sale at Kobo, Amazon, and Walmart.
Apparently it's a Valentine's Day sale, even though Valentine's Day isn't until February 14th. But at least there's plenty of time for shipping.
During the sale, the Kobo Sage is marked down to $239.99 with free shipping. That's $30 off the list price.
The Kobo Libra 2 is marked down to $169.99 with free shipping. That's $20 off the list price.
Unfortunately the sale prices aren't as low as they were in the past since Kobo raised the prices of most of their ereaders by $10 each this month.
The Kobo Sage and Kobo Libra 2 are a lot a like from a design perspective with the page buttons on one side of the screen, but the Sage is more of a premium model. It has a flush front screen and it also supports notetaking and marking up PDFs and ebooks like the larger Kobo Elipsa, but it doesn't come with a stylus so one has to be purchased separately if you want to use the notetaking features (the Kobo Stylus costs $40 but you can use other MPP styli too).
The Kobo Libra 2 has an indented screen and it doesn't support writing with a stylus, but battery life is much better than the Sage, and the screen is a bit clearer without the added flush layer. See my Kobo Libra 2 review for a closer look.
Both devices are waterproof, both come with 32GB of storage space, both have USB-C ports, both support dual-band Wi-Fi, both have Bluetooth for streaming audiobooks, and both have the newer E Ink Carta 1200 screens with better contrast. They also have frontlights with adjustable color temperature and they support Dark Mode so you can read at night.