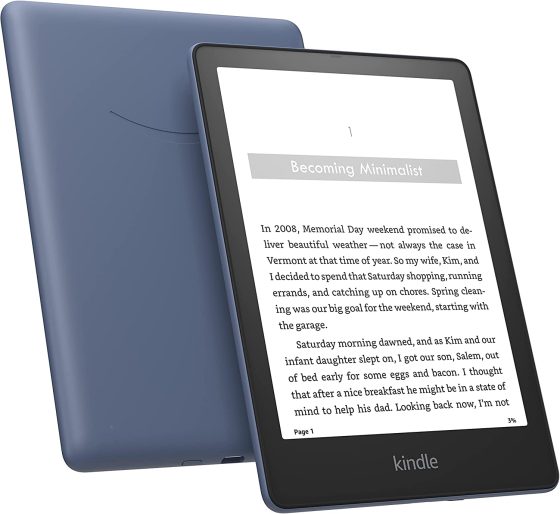 Today Amazon rolled out their Valentine's Day sale on the new Kindle for 2022 and the Kindle Paperwhite 5, including the new green and blue color choices for the Kindle Paperwhite.
The new entry-level Kindle is marked down to it's lowest sale price yet at $74.99, and the Kindle Paperwhite is marked down by as much as $50 for the Signature Edition model.
Amazon also has their kids bundles on sale for both the 2022 Kindle and the Kindle Paperwhite. It's worth noting the 2022 kids Kindle does include screensaver ads when not using it in kids mode, unlike the kids version of the Kindle Paperwhite.
The Kindle Paperwhite Kids is the best deal of the bunch for kids and adults alike at $109.99 if you want an ad-free Kindle, and it also includes a free cover and an upgraded 2-year warranty. That's only $5 more than the regular ad-supported version with a standard 1-year warranty that doesn't cover accidental breakages.
The Kindle Paperwhite Signature Edition for $139.99 is also a really good deal if you need more storage space and want the upgraded features on the Signature Edition model, including wireless charging and auto brightness. It's also ad-free by default so you don't have to pay an extra $20 to remove the lockscreen ads like the standard model.
Unfortunately the Kindle Oasis and Kindle Scribe aren't on sale this time around, but maybe next time. They do have a $40 off coupon when buying two Kindle Scribes. Update: Amazon just added a coupon code, LOVESCRIBE, to get a $25 ebook credit when purchasing the Kindle Scribe.
See my Kindle 2022 review and Kindle Paperwhite review for a list of pros and cons for each device and to watch a video review to see them in action.
Kindle Sales List
Kindle (2022) – $74.99 ($25 off)
Kids Kindle – $84.99 ($35 off)
Kindle Paperwhite 5 – (8GB) $104.99 ($35 off)
Kindle Paperwhite 5 – (16GB) $109.99 ($40 off)
Kindle Paperwhite Kids – (8GB) $109.99 ($50 off)
Kindle Paperwhite Kids – (16GB) $119.99 ($50 off)
Kindle Paperwhite Signature Edition – $139.99 ($50 off)