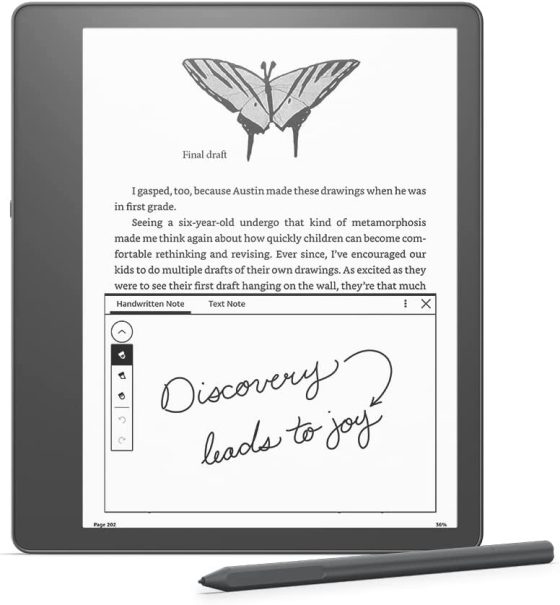 Last week Amazon released a software update for all Kindles dating back to 2015, except the Kindle Scribe wasn't included in that round of updates.
Now this week Amazon has an update package available for the Kindle Scribe as well, and unlike last week's update for other Kindles that didn't appear to change anything at all, this update adds some new features to the Kindle Scribe, including some of the features Amazon promised after it was first released.
The new software version is 5.16.1.2, and it can be downloaded from the Kindle eReader Software Updates page at Amazon.
The update adds a "go to page" option in Notebooks so you can jump to different pages. Just tap the top of the screen to open the menu bar and then tap the three lines on the top right corner.
Amazon also added some new pen types. You now have the option to select Pen, Fountain pen, Marker, and Pencil, and each has five line thickness options.
Another new feature is the ability to create subfolders within folders (and subfolders within subfolders) for Notebooks, and you can move folders into other folders.
Lastly, they added some new screen savers that are exclusive to the Kindle Scribe, but you have to turn off the option to show book covers on the lockscreen (More > Settings > Device Options > Display Cover). Too bad they didn't add the option to show the last opened notebook page on the lockscreen—that would be handy.
Here's the full list of release notes for the update:
Version 5.16.1.2 – February 2023

Here's what's new:

Go To Page in Notebook: Quickly navigate to a specific page in your notebook. Open the main toolbar, tap on the overflow menu, and select Go to page. Enter a page number in the dialog box and tap on "Go" to navigate to that page.

Subfolders on Notebooks tab: You can now create folders inside other folders, and also move folders into other folders via the Move option (accessible by tapping on the overflow menu on the folder's cover, or long pressing on the folder's name or cover).

New screen savers: New screen saver images designed exclusively for Kindle Scribe. To see the new images on your device, simply make sure the Display Cover feature is turned off (More > Settings > Display Options) and lock your screen.

Pen Options: In the writing toolbar, you can choose from four Pen types, each with five thickness options. These Pen types are also available in Settings > Pen Settings > Shortcut Button to configure with your Premium Pen.

Performance improvements, bug fixes, and other general enhancements.