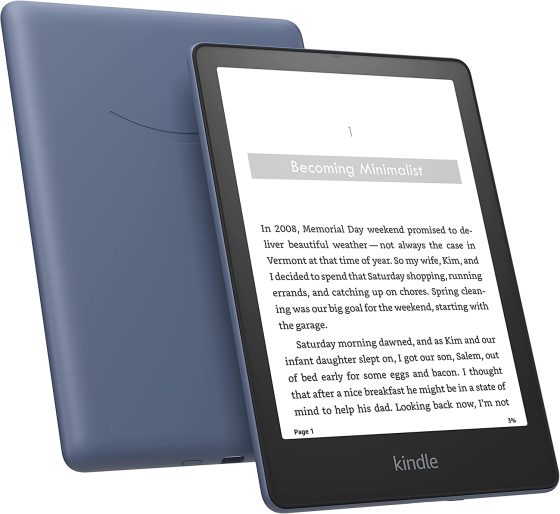 Ever since Amazon released the 6.8-inch Kindle Paperwhite in October of 2021, it's surprising to see how popular the Signature Edition model has been. It's the first time Amazon released an upgraded version of a Kindle Paperwhite, and it appears to be a big success.
Every time I check Amazon's Kindle best sellers page, it's right there toward the top. Right now as of this writing it's ranked #3, just behind the 2022 Kindle that sells for $99, and the 8GB Kindle Paperwhite with ads at #1, which sells for $139.
Considering the Signature Edition model sells for $50 more than the base Kindle Paperwhite, it's surprising how many people choose it over the cheaper regular version.
Amazon never releases any sales figures for Kindles, but between the best sellers list and the number of overall reviews you can get an idea of the pecking order of Kindles.
It's been almost 17 months since the 6.8-inch Kindle Paperwhite was released. In that time the Signature Edition has amassed over 14K reviews. Meanwhile the regular version of the Kindle Paperwhite has over 26K reviews, so about 35% of buyers are choosing the upgraded Signature Edition (oddly enough, the cost increase over the base version is about 35% as well).
The Signature Edition's numbers are even more impressive when you compare it with the Kindle Oasis. In 17 months the SE has over 14K reviews, and in about 44 months the Kindle Oasis has only 15K reviews. The SE is way more popular than the Oasis based off the overall review numbers. In fact it's hard to believe the number is that low for the Oasis.
There are only a few differences with the Signature Edition model over the regular Kindle Paperwhite. For the extra $50, you get more storage space (32GB), wireless charging, and an auto-adjusting frontlight. Plus it doesn't have ads on the lockscreen. Other than that it's exactly the same as the base Kindle Paperwhite. It's surprising how many people are willing to pay a bit more for a few upgrades. I wouldn't be surprised to see more "Signature Edition" Kindles in the future.