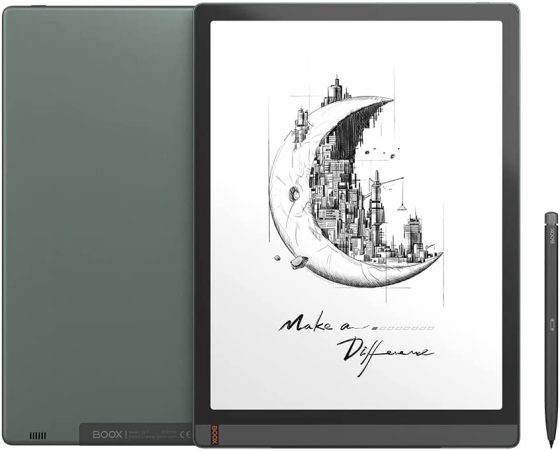 Onyx released the Tab X back in January. It's their latest eNote that features a flexible 13.3-inch E Ink screen, and it's the first Onyx device, along with the smaller Tab Ultra, that has a dedicated GPU to improve the refresh rate of the E Ink screen.
There aren't very many options for 13.3-inch E Ink devices these days—it's a really niche market—but the Tab X looks like the best one that has been released to date.
It's well out of my price range so I have no plans to review it, but Onyx uploaded a YouTube video showing the Tab X in action. It's a fairly basic video, and obviously it doesn't mention any negatives coming from an Onyx representative, but it shows some of the features and it kind of gives a sense of how big the device is (until you see one in person it's really hard to tell just how big these 13.3-inch devices are).
The Tab X is Onyx's flagship model so they aren't skimping on overall specs, and it runs Android 11 and is open to installing Android apps. It has a octa-core CPU with 6GB of RAM and 128GB of storage, with a USB-C port that supports OTG, and it has a Wacom touchscreen with support for 4096 levels of pressure sensitivity.
It also has dual speakers, a mic, a rotation sensor, WiFi, Bluetooth, and the battery is a massive 6,300mAh.
The screen resolution is a bit lower than some other devices at 207 ppi, but it's harder to tell with the larger screen. On the plus side, Onyx claims the screen is clearer on this model thanks to a 50% thinner touch layer, and it also has a frontlight with adjustable color temperature.
The Onyx Boox Tab X is one of the most expensive E Ink ereaders on the market at $879 on Amazon, but it's also the largest and most capable. There's also the smaller Tab Ultra with a 10.3-inch E Ink screen that sells for $599.
Onyx's Boox Tab X Video