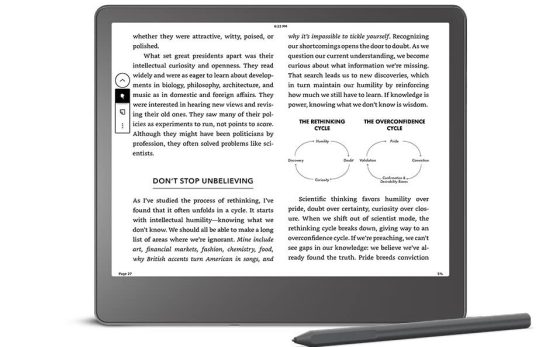 Yesterday Amazon released a new software update for the Kindle Scribe and they sent out an email describing some of the new features they added with the update, and at the bottom of the email they mention a couple of additional new features that will be coming soon in a future update.
They say the Kindle Scribe will be getting new lasso select tools that can be used to do things like circle a word or paragraph to move, cut, paste, and scale notes.
They also list copy/paste tools in the Coming Soon section on the main Kindle Scribe help page at Amazon, so adding a lasso tool has been hinted at for a while now, but this is the first time they've mentioned anything about text conversion on the Kindle Scribe.
The email says they will be adding a convert to text feature soon, and you'll be able to convert, edit, and send your handwritten notes to yourself, friends, or colleagues.
When the Kindle Scribe was first announced, I remember a lot of people being disappointed by the fact that it didn't offer any kind handwriting to text conversion like other eNotes, so it's good to hear Amazon plans on adding that feature in the future as well.
It's also nice to see Amazon providing these details about what their plans are when it comes to future updates. That's not something they usually do with Kindles. Sometimes they mention a new feature or change they plan to make in the future, but they've never done anything like this where they keep providing details about upcoming new features that will be added via software updates.
The email also said Windows users can now send documents directly from Microsoft Word to the Kindle Scribe, so that feature is officially rolling out now and throughout May, with the "Mac and Web experience to follow".