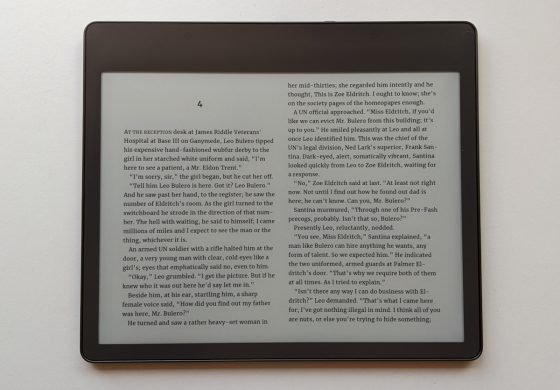 Amazon has released another software update for the Kindle Scribe that adds some nifty new features.
The new software version is 5.16.1.3, dated April 2023. The update is only available for the Kindle Scribe; there is no update for other Kindle models at this time.
This is the second update that Amazon has released for the Kindle Scribe this year. The last update, version 5.16.1.2, added new pen types, some with support for pressure sensitivity, and they added folders and a go-to function for Notebooks.
This update adds a couple of new reading-related features, and they added a Notebook preview option as well to view multiple note pages at once, and you can also add new pages and rearrange and delete existing pages from the overview window as well, which is pretty cool.
They added the option to use a two-column layout with ebooks when using landscape mode, similar to how Kindle apps work. Note that you have to switch to landscape mode before you can enable the two-column view.
Another handy new reading feature, they added contrast control to PDFs sent using Send to Kindle, so you can darken the text of sent PDFs (print replica) now instead of just with sideloaded PDFs like before.
You can download the update now from Amazon's Kindle Software Updates page and install it manually, or you can wait for the update to automatically install on your Kindle Scribe at some point in the future.
Here's the full list of release notes:
Version 5.16.1.3 – April 2023

Here's what's new:

Contrast Slider in Aa Menu: In Write-on Kindle books and Send to Kindle PDFs (sent with original layout), you can adjust the brightness or crispness of the content in the book or document.

Two-Column Layout in Aa Menu: In most books, you can use the Aa Menu "Layout" tab to switch to landscape orientation and then choose between one or two columns of text.

Notebook overview: You can preview multiple pages of your notebook at a time in a tiled layout in a notebook overview, as well as add, delete, and move individual notebook pages.

Performance improvements, bug fixes, and other general enhancements.