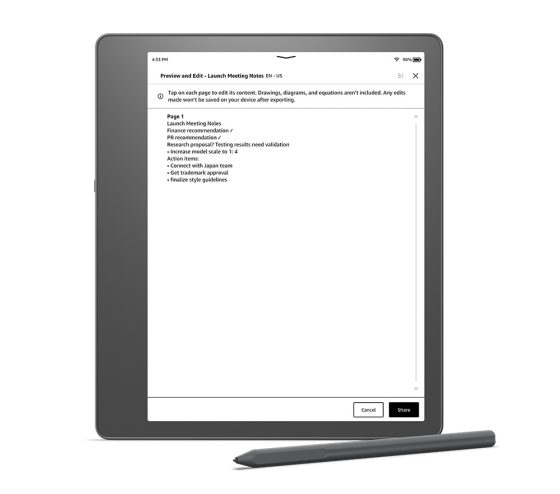 Today Amazon released the third software update for the Kindle Scribe since it was released last November, and it's a pretty big update for PDF users. The new software version is 5.16.2.
In my PDF review for the Kindle Scribe, I talked about how sideloaded PDFs have different features than PDFs sent using Send to Kindle, but now after this update that is no longer the case.
Now sent PDFs have the same features as sideloaded PDFs, with the benefit of being able to write on them (you still can't write on sideloaded PDFs).
They also added a handy lasso tool that lets you select any handwritten notes to move, resize, copy and paste, and you can move them to other pages too. The lasso tool is available with PDFs, Notebooks, and even sticky notes.
The last major addition with this update is the ability to convert handwritten notes to typed text. But oddly enough, this feature is only available upon export; you can't save the converted notes to the Kindle Scribe itself, but you can view and edit them before exporting via email.
The 5.16.2 update can be downloaded from the Kindle Software Updates page at Amazon if you want to install it manually, or you can wait for it to automatically install at some point while syncing.
Lastly, Amazon is now advertising some Write-on Books in the Kindle store that support writing directly on the page. Most are crosswords and sudoku puzzles.
Here's the full list of changes with this update:
Version 5.16.2 – May 2023

Convert to Text in Export: Easily convert your handwritten notebooks to text when you export, so you can edit and share the notebook with yourself or friends, family, or colleagues over email. In the Share menu, customers will have the option to "Convert to text and quick send" and "Convert to text and email" their standalone notebook as a .txt file. For the latter option, customers will be able to preview, review, and edit their notebook converted to text before sharing over email to up to 5 email addresses.

Lasso Select Tool: The new lasso select tool works anywhere you can write: notebooks, sticky notes, as well as PDFs uploaded to your Kindle library via Send to Kindle. With the new lasso select tool simply circle your handwritten text or pen strokes, then you can resize or move your selection within a notebook, sticky note, or PDF. You can also cut, copy, and paste your selection across your notebooks, sticky notes, and PDFs.

PDF Reading Improvements: For PDFs uploaded to your Kindle library through Send to Kindle, including the new Send to Kindle from Microsoft Word (using the "like a printed document" option), on Kindle Scribe customers can now switch between portrait and landscape view mode, crop margins to increase font size, and select text to make structured highlights with your finger or pen, add text notes, or look up dictionary definitions, translations, and Wikipedia results.

Write-On Content: Exclusive to Kindle Scribe, a new selection of books and titles that support direct on page writing, including guided journals and word games like crosswords and sudokus. These new content options are available for purchase on Amazon, and in the Kindle Store on your Kindle Scribe device – just look for "Write-on Books" in the store or "On-page writing" listed as a supported feature under the Product Details section of the eBook you wish to purchase.
Video Summary of Latest Kindle Scribe Update