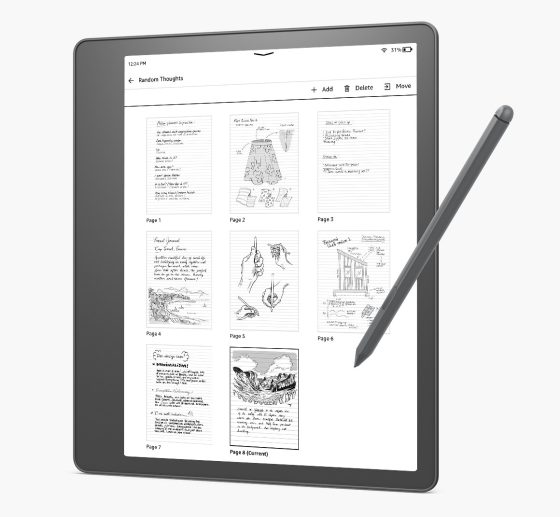 Here's something that I never noticed before. Someone over at MobileRead pointed out a webpage on Amazon that lets you view all of your Notebooks from the Kindle Scribe.
Here's the link to the Kindle Notebooks webpage (you have to be signed into your Amazon account to view the page): https://read.amazon.com/kindle-notebook
Maybe this is a new feature they haven't officially announced yet or maybe I just missed it, but this is the first that I've heard about it.
It doesn't require any extra steps for your Notebooks to appear on that webpage; they automatically show up when your Kindle Scribe syncs.
It also shows all of your folders and subfolders and any notes added to them. You can scroll through notebook pages using the mouse wheel or onscreen arrows. There's a sync button at the top right to refresh the page, along with a toggle to view the Notebooks in list or grid format. One thing that's kind of weird is your newest Notebooks get added to the bottom of the list instead of the top like on the Scribe, but maybe they'll add some sorting options at some point.
You can't edit your notes or reorganize them in any way from that page, just view them. I thought maybe you could right-click on them and download them as images, but that doesn't work. You can, however, save them as an HTML or PDF file, but that doesn't really work either.
It's a quick and easy way to view the Notebooks from your Kindle Scribe, but using the Scribe's export option is still a better way to actually get the files off of the Scribe.
Notebooks from the Kindle Scribe are also viewable using the Kindle for Android and iOS apps. That's been an option since the beginning, and this webpage option functions in the exact same way.
Related: Kindle Scribe – 30 Tips and Tricks