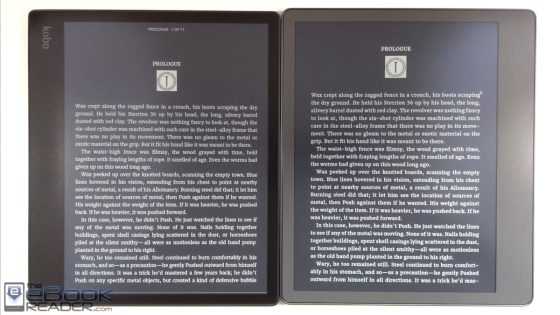 I've heard some people saying that Dark Mode looks better on Kobo ereaders than on Kindles so I decided to put together a quick video showing how Dark Mode compares on Kindles and Kobos.
Dark Mode (white text on a black background) is a relatively new feature on E Ink ereaders, at least officially—there have been Dark Mode hacks going back quite some time. But now it's an advertised feature on both Kindles and Kobos, and a lot of people seem to like using it.
Surprisingly most brands still don't support it. Onyx has arguably the most advanced ereaders on the market and even their devices lack an official Dark Mode feature. Nooks have something called Night Mode, but that's just their term for using the warm frontlight.
Kindles and Kobos are the best ereaders for Dark Mode because it's an officially supported feature by both their hardware and software. Dark Mode hacks and apps on Android don't refresh the screen nearly as well as the official Dark Mode feature on Kindles and Kobos. It'll work on some other devices but there's a lot more ghosting and excessive flashing.
In the video below, I start out comparing Dark Mode on the new Kobo Elipsa 2E and the Kindle Scribe. The Scribe has 300 ppi and the Elipsa has 227 ppi so there's a difference in resolution, but later in the video I also compare the Kobo Clara 2E and the 2022 Kindle, both with 300 ppi.
First off, there are some differences in how Kindles and Kobos handle Dark Mode. Kindles invert everything, including the interface, the menus and the library view, while Kobos only invert the text in books.
Both brands also handle the frontlight brightness differently when using Dark Mode. Amazon limits the maximum brightness level on Kindles, while Kobo does not. On Kindles the frontlight level isn't nearly as bright when using Dark Mode, and Kindles will also automatically change the frontlight brightness based on your previous settings when turning Dark Mode on and off.
I think the increased brightness level is the main reason why people say that Dark Mode looks better on Kobos than on Kindles. When you crank the frontlight up on Kobos the light is much brighter so it makes the text look whiter and helps it stand out more.
Having the brightness turned up while using Dark Mode kind of defeats the purpose in some sense, but it's one of the key difference between Kindles and Kobos when comparing Dark Mode so it's something to consider.
Kindle vs Kobo Dark Mode Video