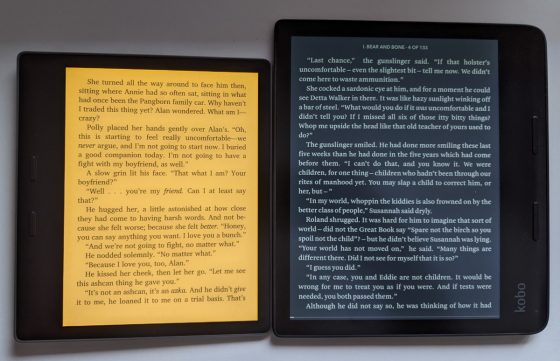 Over the past five years warm frontlights and the ability to read with white text on a black background, usually called Dark Mode, have become popular features on many dedicated reading devices.
Kobo was the first to add the option to use a warm frontlight with the Kobo Aura One, and now most ebook readers offer that feature as well (it took Amazon a lot longer to come around but now the Kindle Paperwhite and Kindle Oasis both have warm frontlights).
Amazon was quicker to officially add the Dark Mode feature, which started out as an accessibility setting on the Kindle Oasis 2, but it became popular enough for them to add it to the main quick settings menu. Dark Mode is available on the Kindle Oasis 2 and 3, as well as the Kindle Paperwhite 4 and 5.
Kobo officially added support for Dark Mode when they released the Kobo Elipsa earlier in the year, and the new Kobo Libra 2 and Kobo Sage both support Dark Mode as well. Previously you had to enable a hidden setting on Kobo ereaders to use Dark Mode, and there was a reason it was hidden because it didn't work very well.
One interesting thing about Kindles is they automatically adjust the frontlight level when switching to Dark Mode; the level will return to whatever you had it set at the last time you used Dark Mode, and it will go back to the setting you had in regular mode after turning Dark Mode off.
One thing that's odd about Kindles is auto-brightness gets disabled when using Dark Mode; the option to turn it on disappears.
One thing I really like about Onyx's ereaders, and I think it should be an option on all devices, is they have the option to adjust the frontlight temperature by swiping up and down on the right side of the screen. Kobos have long had the option to adjust the frontlight level by swiping vertically on the left side of the screen, and that's a great feature as well, but Onyx are the only ones I know of that can adjust the frontlight color by swiping the other side of the screen.
However, Onyx Boox ereaders don't have the option for any kind of Dark Mode, not unless you're using a 3rd-party Android app that supports it, but that's not going to work as well as native Dark Mode.
The inverted Dark Mode feature is something that requires specific E Ink waveforms to function properly. That's why some older devices don't support Dark Mode. Sometimes there are hacks to add Dark Mode but there will be a lot more ghosting and afterimage effects than with devices that officially support Dark Mode.
Warm frontlights and Dark Mode were both originally intended to help make reading at night more comfortable, but of course either can be used as much or as little as you want. Some people prefer using warm frontlights or dark mode all the time, or maybe even a combination of both.
What's your take on the subject? Do you like using Dark Mode or a warm frontlight better? Or do you use both?