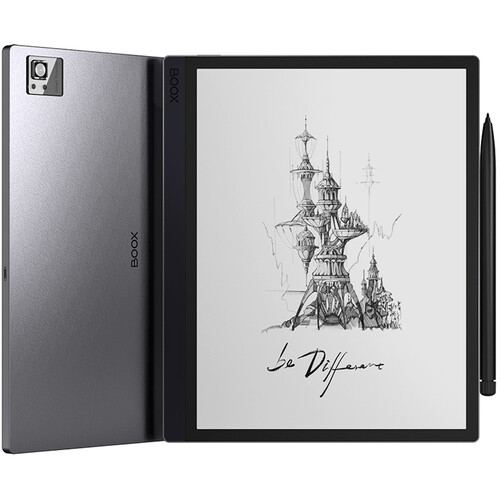 Earlier this week I posted about some of Onyx's devices being on sale at B&H, and now there's an even better deal on the Tab Ultra (the black and white version).
Right now the Tab Ultra is on sale for $499 at Amazon. That beats the B&H sale by $30, and it's the lowest price the Tab Ultra has sold for since it was released last November. It originally sold for $599, and then they dropped the price down to $559 when the Tab Ultra C was released with a color E Ink screen.
That's a really good price considering how far ahead the Tab Ultra is compared to other eNotes, both from a software and hardware standpoint.
The Tab Ultra is pretty much exactly the same as the Tab Ultra C, except for the screen. The Tab Ultra has a regular 10.3-inch black and white E Ink screen with 227 ppi. I just posted a review of the Tab Ultra C this past week, and most of that review applies to the Tab Ultra as well since the screen is the only real difference.
I think the Tab Ultra C is probably in higher demand right now, hence the sales on the regular Tab Ultra, but I'd personally rather spend $100 less on the Tab Ultra right now since I read a lot more black and white content than color, and E Ink's regular black and white screens still have better contrast than their color screens. Color E Ink is great for comics and magazines and such, but I mostly read ebooks and PDFs that don't have much color anyway.
The Tab Ultra has pretty high-end specs for an E Ink device, including a dedicated GPU to improve the performance of the E Ink screen. It also has an octa-core CPU with 4GB of RAM and 128GB of storage space; plus there's a microSD card slot.
The device supports dual-band WiFi, is has Bluetooth 5.0, there's a rotation sensor, a fingerprint reader, a USB-C port with support for OTG, it has dual microphones, dual speakers, and there's also a 16MP rear camera for scanning documents.
It also has a Wacom touchscreen for taking notes, and it comes with a stylus. There's a frontlight with adjustable color temperature as well, and the device runs Android 11 and it has Google Play onboard to install apps.