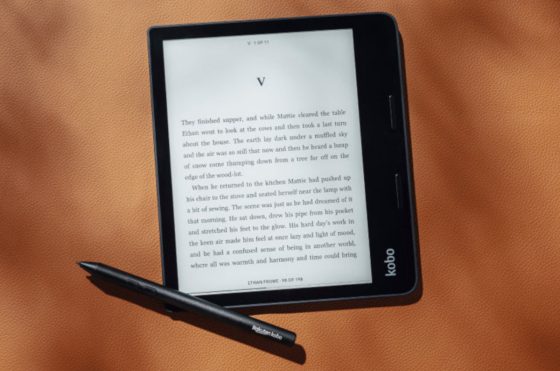 Kobo has released a new firmware update for their line of ereaders, version 4.37.21533. For most Kobo models it's a fairly minor update, but for the notetaking models, including the Kobo Sage and Kobo Elipsa, it's a pretty big update that adds a lot of new features.
This is the first update that Kobo has released since last December, which is a lot longer than usual. This isn't the mandatory update that Kobo notified customers about earlier in the year; that was the December update.
This update adds some new templates for Basic Notebooks, along with the ability to search handwritten notes, and now shapes and a lasso tool are available. The option to organize Notebooks into folders has been added as well, and now Notebooks can be backed up to the Kobo Cloud.
Additionally, line spacing is now adjustable in Advanced Notebooks, and you can also highlight text using the button on the stylus now.
Kobo's software updates are usually rolled out slowly so it can take several weeks to receive the update automatically while syncing, but you can also update manually whenever you want.
To manually update, just download the update for your specific model from the Kobo Firmware Downloads page, and then extract the downloaded file and place the contents of the update folder into the .kobo folder on your Kobo device. If done properly, it will detect the files and automatically apply the update after you disconnect it from your computer.
Here's the full list of release notes for the 4.37.21533 update for Kobo's notetaking models (for other models remove the Notebook section and the part about Google Drive):
Store

Try our new Categories bubble to find new books.
You can now filter your Wishlist by on-sale items.

Miscellaneous

More ways to access your content with Google Drive.
In Settings, we've increased the area you can tap to choose an option.

Notebook

Discover more ways to make notes by using our new templates including musical sheet, calligraphy, and more.
You can now search your handwritten notes in a Notebook.
In Basic Notebooks, create proper shapes by drawing and holding your pen in place for a few seconds. For example, if you draw a circle, you can convert into a perfect circle.
In Basic Notebooks, use the new Lasso feature to move, delete, copy, resize, and convert your notes into typed text.
Organize your notebooks with folders.
Never worry about losing your notebooks again. Turn on the Notebook Backup feature to save them on the Kobo Cloud and view your notebooks on kobo.com/notebooks.
You can now adjust line spacing in Advanced Notebooks.
In Advanced Notebooks, you can now highlight text with the button on the stylus.