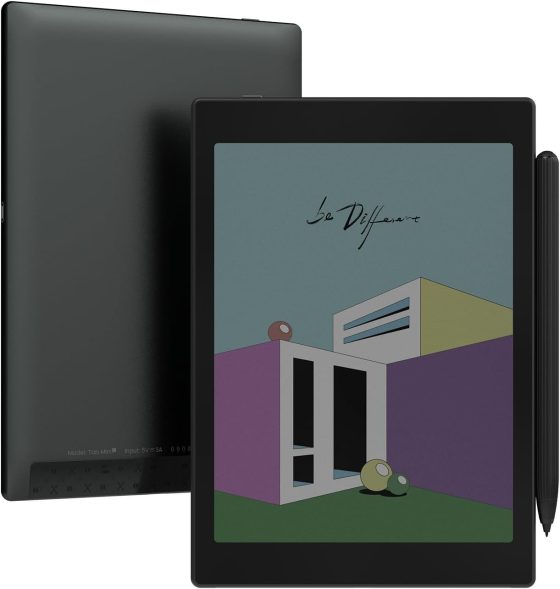 Onyx released the new Tab Mini C with a 7.8-inch color E Ink screen about 3 weeks ago, and now they've got a new video showing the device in action on their YouTube channel.
I just reviewed the larger model, the Tab Ultra C. The features and software are mostly the same between the two, and both have the latest generation Kaleido 3 screens from E Ink, but it's interesting to see some of the design changes with the smaller model.
The Tab Mini C lacks the rear camera so it will sit flat on a table without rocking, and it looks like the edges are rounder, making it more comfortable to hold. But it does lack the microSD card slot and the fingerprint reader that come on the Tab Ultra.
The Tab Mini C's Kaleido 3 screen supports 300 ppi for black and white content and 150 ppi for color content. Like most of Onyx's devices, it has a flush front layer and a frontlight with adjustable color temperature, and it comes with a stylus for writing on the screen.
Like the larger Tab Ultra, the Tab Mini C runs Android 11 and it has an octa-core CPU with Onyx's "exclusive GPU" for improved performance. There's 4GB of RAM and 64GB of onboard storage, and it has a large 5000mAh battery, which is 150% larger than the battery on the previous generation Nova Air C.
The device also has dual speakers built-in, along with a microphone, and there's a rotation sensor too. It also support dual band WiFi and Bluetooth 5.0. The overall dimensions are listed at 194 x 136.5 x 8.3 mm, and the weight is approximately 264 grams.
Shown towards the end of the video, I like how the transparent screensaver lets you see a page of notes or whatever screen you were last viewing when the device is turned off. All eNotes should have that feature.
The Boox Tab Mini C sells for $449 from Onyx's Amazon store.
Introducing Tab Mini C: 7.8" Color eReader