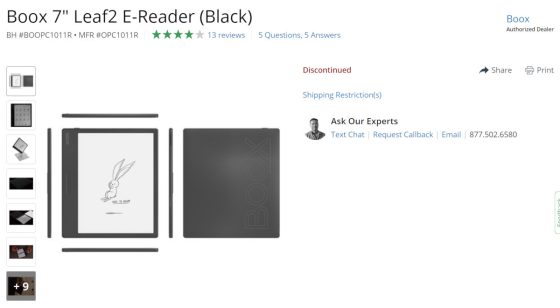 It looks like Onyx is back to their old tricks of abandoning products that have only been on the market for a few months.
Apparently when they announced the released of the new Boox Page last month, that also meant the end of the Leaf2 because now the product page at B&H says it's been discontinued, and it's also no longer available to purchase from Onyx's website either.
Onyx first announced the Leaf2 at the end of last October, but it was mostly out of stock for the first couple of months, especially the white version, which has only been available for about 6 or 7 months tops.
Now I'm glad I didn't waste the time and money reviewing the Leaf2 (I had planned on buying the white one but it was always out of stock for the first few months after it was announced). That's one of the main problems with Onyx; they rarely commit to anything for longer than a year. They'd rather release something new every 6 months or so and keep churning out new models with minor changes than sticking with existing products.
The new Boox Page is a perfect example of that. It has the same design as the Leaf2 (in fact, the dimensions are identical), but they changed the CPU, added 1GB of RAM, and increased the battery size by 15%. So essentially they made a few minor changes to the Leaf2 and jacked up the price by $50. That's a standard Onyx move. By this time next year they'll have moved on to the Page2, and it'll be 95% the same as the original Page.
There are a lot of things to like about Onyx's devices, but their business practices are a different matter entirely. They don't abide by the same set of laws as other companies, and they often discontinue products at the drop of a hat. It makes it hard to trust buying anything from them with such a transient business model, and it's not like the newer models they keep releasing are a big step up from previous versions. Most of their "upgrades" aren't even worth it.