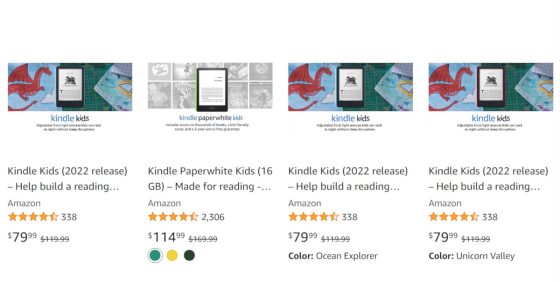 Amazon has both kids versions of the entry-level Kindle and Kindle Paperwhite on sale, and the prices are nearly as low as they were for Prime Day.
In fact if you buy two of them you can get an extra $20 off, making the price of the entry-level version lower than it was on Prime Day and proving that Prime Day deals just aren't as good as they used to be, especially considering these deals don't require a pricey Prime membership to get them.
Here are the links to the deals:
Keep in mind the new Warrior Cats version of Kids Kindle Paperwhite costs $10 more so it's not quite as good of a deal as the other versions.
Amazon also recently made a change so the Kids Kindle Paperwhite shows ads on the lockscreen when not using kids mode, at least that's what it now says on the product page. So now you have to pay an extra $20 if you want to get rid of the ads when using it as a regular Kindle instead of a kids Kindle.
It's still a better deal than paying full price for a regular Kindle, though. If you want a new Kindle, there's no reason not to get one of these kids versions while they're on sale.
The only difference with these kids bundles is they come with a cover, an upgraded 2-year warranty that covers accidental breakages, unlike the standard Kindle warranty, and a 1-year free subscription to Amazon Kids+.
Standard Kindles have the option to add 3 months of Kindle Unlimited for free so that's the only real benefit of going with one of those instead, but if you don't already have a membership you can usually get 2 months of Kindle Unlimited for free anyway.
It looks like this sale ends tomorrow so it won't be up for very long.