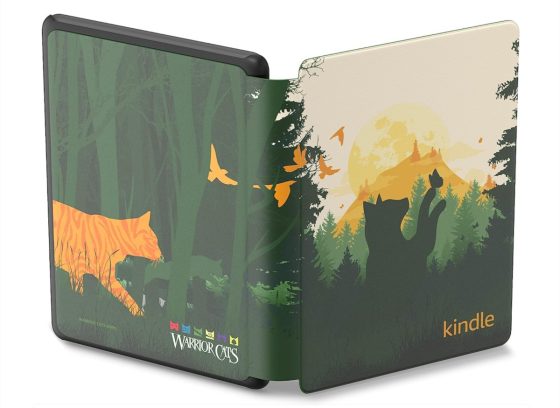 Amazon is releasing a new "Special Edition" Kindle Paperwhite Kids bundle tomorrow on July 5th that features a new cover design.
The new case has a Warrior Cats theme. Anything with cats is likely to be a hit, but this particular design ties in with the Warrior Cats series of young adult fantasy books by Erin Hunter.
The list price of the new bundle is $179.99, which is $10 higher than the standard bundles with other cover designs.
For some reason they're no longer selling the bundle with the plain black cover, and it looks like they've phased out the 8GB versions. Now the Kindle Paperwhite Kids bundle is only available with 16GB of storage, and they cost $10 more than the 8GB bundles sold for ($20 more for this one).
The Kindle Paperwhite Kids bundle used to be hands-down the best value since it sold for the same exact price as the ad-free 8GB model, but now it's $30 more expensive ($40 for the Warrior Cats version) than the ad-supported 8GB Kindle Paperwhite, and for most people the extra storage space is never going to get used so it really doesn't serve any purpose unless you're listening to a lot of audiobooks.
You get the same Kindle Paperwhite 5 whether you buy the kids version of the regular version, so it's still a decent value. The kids bundle just adds a cover, and upgraded 2-year warranty, and a 1-year subscription to Amazon Kids+.
There's no indication the new Warrior Cats bundle comes with any of the Warrior Cats books, but maybe some are available through Amazon Kids+. I don't think there's a way to check what's available through Amazon Kids+, though, so who knows. Either way, the new Warrior Cats bundle gets released on July 5th so they should start shipping it out starting tomorrow.