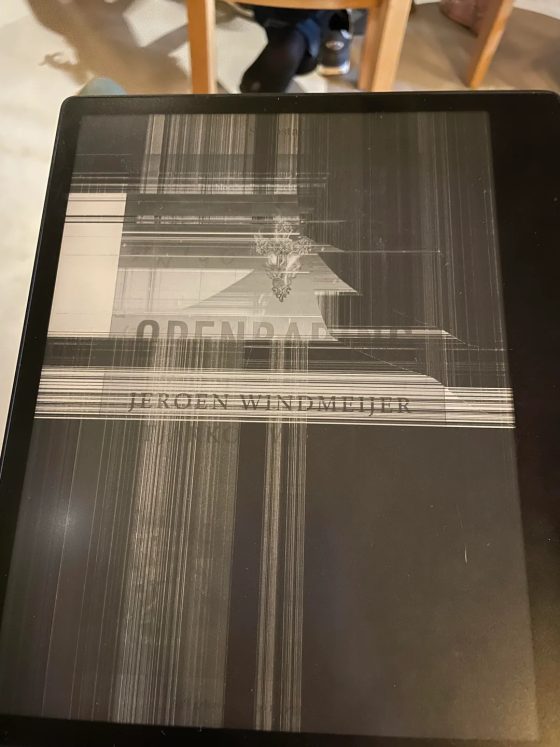 I've been seeing a lot people posting pictures online lately of Kindles, Kobos, and other reading devices, including eNotes from Onyx, with cracked screens.
The fact is ereader screens tend to break a lot easier than most other types of devices like phones and tablets with LCD and LED screens, and broken screens aren't covered by most warranties.
Dedicated reading devices like Kindles and Kobos use E Ink screens that mimic the look of print on paper, which is great for reading, but E Ink screens are more fragile than typical LCD screens, so you have to be more careful with reading devices and notetaking devices that have E Ink screens.
It's very important to keep them in a case or a cover when putting them in a purse or a backpack with other items. In fact just having them in a case might not be enough with other items around; you're better off placing ereaders and eNotes in a more secure spot with less items, or wrapping them in something soft.
E Ink screens can easily crack when pressure is applied to them because they have a very thin backplane that's made of glass. Even something small like a set of keys can break an E Ink screen under the right circumstances.
Devices with E Ink screens are also more prone to breaking from simple drops than other types of handheld electronics so you have to be a little more careful with them. Also avoid bending or torquing the device in any way, and try to avoid leaving your devices in extreme temperatures.
Sometimes the front layer that goes over the E Ink screen on flush-screen devices can crack and the device can still be functional, but if the E Ink screen itself cracks it will no longer work and there is no fixing it.
Are some brands more prone to cracked screens than others? That would be an interesting statistic to know, but pretty much all E Ink devices are more susceptible to cracking than LCD screens. They do make flexible E Ink screens that don't crack, but almost no devices use them. The Onyx Boox Tab X is pretty much the only current model, and it's nearly $900.