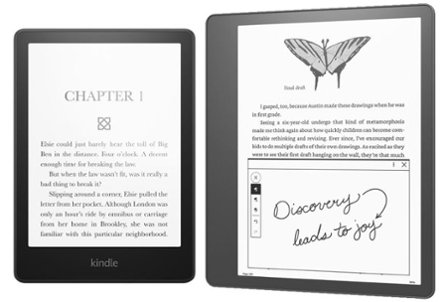 Yesterday I posted about the Kindle Paperwhite Kids being on sale at Best Buy, and the price is the same as it was for Prime Day last month. I guess I should've waited one more day because now Best Buy has all Kindles on sale with Prime Day prices, and a Prime membership or Best Buy membership is not required to get the deals.
The Kindle Scribe is up to $100 off. The Kindle Paperwhite is up to $65 off, and the Kindle Oasis is up to $95 off. The basic Kindle is on sale too, but it's not quite as good of a deal as other Kindles at just $35 off ($45 off the kids version).
Like Prime Day, these deals are valid for just two days and the sales end tomorrow. This is something Best Buy usually does after Prime Day. It seems that Amazon has an agreement with them to offer Prime Day prices a few weeks after Prime Day each year.
The only difference is a Prime membership is not needed when buying from Best Buy. The deals are all exactly the same as Prime Day, except they don't seem to have the 16GB Kindle Scribe with the basic pen—it's only available with the premium pen.
It's not just Kindles that are on sale; Best Buy has a bunch of Amazon products marked down to their equivelent Prime Day prices, including Fire Tablets, echo products, and security cameras.
Here's the full list of Kindle Deals at Best Buy:
Kindle Deals List
Kindle Scribe 16GB – $279.99 ($90 off)
Kindle Scribe 32GB – $294.99 ($95 off)
Kindle Scribe 64GB – $319.99 ($100 off)
Kindle Oasis 3 – $164.99 ($85 off) 8GB model
Kindle Oasis 3 – $184.99 ($95 off) 32GB model
Kindle Oasis 3 – $254.99 ($95 off) 32GB model with 4G LTE
Kindle Paperwhite 5 – $89.99 ($50 off)
Kindle Paperwhite Kids – $104.99 ($65 off)
Kindle Paperwhite Signature Edition – $124.99 ($65 off)
Kindle – $64.99 ($35 off)
Kids Kindle – $74.99 ($45 off)