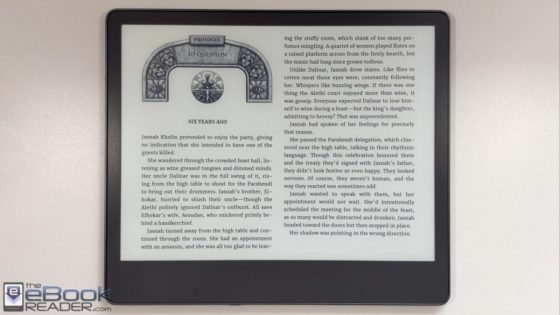 Back in April, two software updates ago, Amazon added the option to read ebooks using a two-column layout in landscape mode on the Kindle Scribe.
The Kindle Scribe is the only Kindle to support two-column landscape mode. It's something Kindle apps and Fire Tablets have had for a long time, but this is the first time a Kindle ereader has had the option to read using a two-column layout.
I didn't think much of it at first, but I finally decided to try it and after reading a few ebooks using two-column mode, I don't think I'll ever go back to using portrait mode on the Kindle Scribe, at least not for ebooks. I still prefer portrait mode for PDFs and other stuff so I'm always having to switch back and forth.
Unfortunately Amazon's software requires a bunch of different steps to switch between portrait and landscape mode, and you have to manually switch to landscape mode before you can select two-column mode, but you can setup Themes to making switching back and forth quicker.
Using landscape mode can take some getting used to at first because the main Kindle interface and settings menus don't rotate to landscape mode so you have to keep going back to portrait for other things.
If you haven't tried two-column mode on the Kindle Scribe yet you should give it a try. Not only does it layout nicely on the larger screen, the Scribe is surprisingly comfortable to hold with the larger handle section on the bottom.
A few basic tips:
The option to switch to two-column mode is available from the "Layout" section of the font menu (Aa), and it's grayed out until you switch to landscape mode.
Two-column landscape mode is only an option on Kindle ebooks in the newer KFX format; it isn't available on older AZW and MOBI formats, but you can send EPUBs and other formats to your Kindle Scribe using send-to-Kindle to have them converted to KFX.
Setup a theme to make switching to 2-column mode faster: just chose the layout and font settings that you like from the font window (Aa) and then select the "Themes" tab and hit the "Save Current Settings" button.
Long-press images within ebooks and then select the magnifying glass to view them in full screen.
Kindle Scribe 2 Column Mode Video Demo