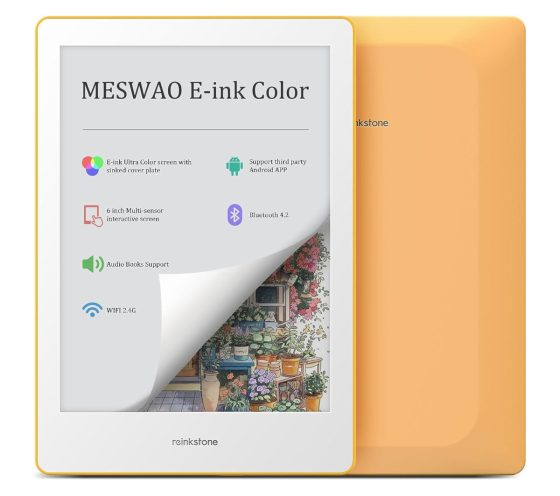 A new color ereader from China has turned up for sale on Amazon under the Meswao brand, but it's actually a rebranded Reinkstone R1 Reader.
Apparently the device is called the Meswao E-ink Color. Or maybe it's called the Ultra Color, as the title says at Amazon, but who really knows what they're calling it. It's really a Reinkstone R1 Reader.
The device has a 6-inch E Ink Kaleido Plus screen with 300 ppi for black and white content and 100 ppi for color content. It appears to have an indented screen without an added flush front layer, and there's also a frontlight.
It's kind of surprising to see companies still releasing 6-inch ereaders with color E Ink screens. There's only been a couple 6-inch models. Most color content generally benefits from a larger screen. It's kind of hard to read comics and magazines on 6-inch screen, but the device is a lot cheaper than larger color ereaders.
It runs Android 11 and they advertise it as supporting third-party apps, so that opens up the overall functionality a bit.
As far as specs go, it has a 1.8GHz quad-core CPU with 2GB of RAM and 32GB of storage space. It supports Bluetooth, WiFi, and it has a USB-C port. It has a 1550mAh battery, and the weight is listed at 150 grams. The measurements are 153.2 x 107 x 6.9mm.
I'm not familiar with the brand and I don't know if the software is any good, but with the specs and screen size it's basically like a color version of the Poke5 from Onyx.
The Meswao, or Reinkstone R1 Reader, or whatever they want to call it, is selling for $229 with free shipping from Amazon. The seller is based in China but Amazon is listed as the shipper so it ships fast and is eligible for Amazon's easy returns so it's a pretty safe bet if you want to try it out.