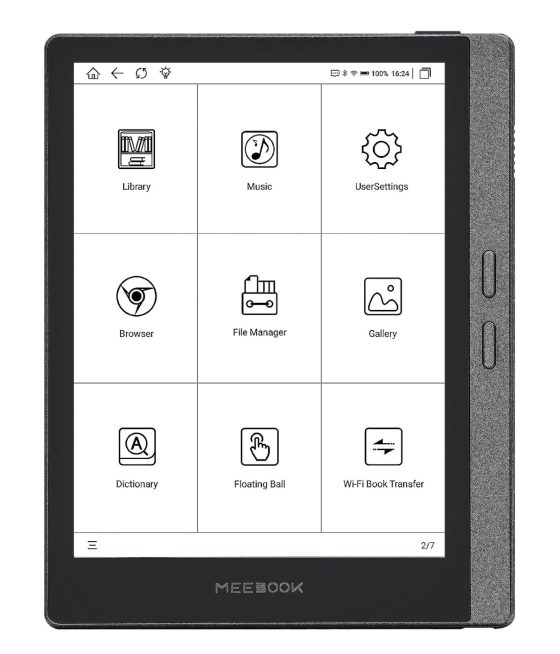 A new Meebook ereader called the Meebook M7 has turned up for pre-order on Amazon for $239, and it has some interesting features for the price. Update: The main Meebook distributor has it listed now and the price is only $199.
It's the first device I've seen with a 6.8-inch 300 ppi screen since the Kindle Paperwhite 5 (I was starting to think Amazon had an exclusive deal on those screens since nobody else uses them). It's a Carta 1200 screen, according to the listing, and it has a frontlight with adjustable color temperature.
The Meebook M7 also features page-turn buttons. It has an asymmetrical design with the buttons on one side, but the device isn't quite as wide as similar devices. In fact it's 9mm narrower than the Kindle Oasis.
For specs, it has a 1.8GHz quad-core processor with 3GB of RAM and 32GB of storage space. There's a microSD card slot for expansion up to 1TB, and it has Bluetooth and Wifi as well. There's also an external speaker. The battery size is listed as 2900mAh. The overall dimensions of the device are 171 x 132.2 x 7.4mm.
One thing about the listing is it doesn't specify the type of USB port. There's a section that says what's included in the box and it says a micro USB cable. Hopefully that's just a copy and paste error from an earlier listing because it would be disappointing if it didn't have a USB-C port in this day and age. Update: It does have a USB-C port.
The Meebook M7 runs Android 11 and it has the ability to install apps, and they say Google Play is supported.
The Meebook M7 is a lot like the Onyx Boox Page that was released a couple months ago, except the Page has a 7-inch screen and an octa-core CPU, but there are a lot of similarities otherwise. The Page might be the better device but it costs $50 more. Either way it's good to have more options.