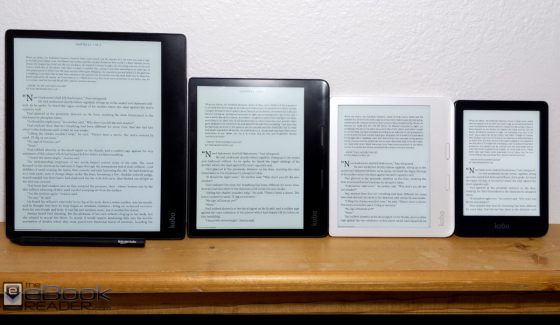 Below is a YouTube video showing the current lineup of Kobo ereaders next to each other to help get an idea of the size differences between them.
It's often hard to get an idea of the size of products when shopping online based on pictures alone, and since Kobo's ereaders aren't available to see in person at retail stores anywhere, at least not in the United States, that doesn't help matters any.
So with this video I have the current set of Kobo ereaders all lined up next to each other so you can get an idea of the size difference between each of them.
The only current device not shown in the video is the Kobo Nia, but it's almost exactly the same size as the Kobo Clara 2E. Both devices have 6″ screens; the Nia is just a bit thicker. It's the next model due to be replaced so it probably won't be around for much longer anyway.
The first generation Kobo Elipsa is the same size as the newer version, the Kobo Elipsa 2E. Kobo still sells both models but they're mostly the same except for the addition of a warm frontlight to the 2E (and it's also partially made from recycled plastic).
Obviously the larger models are better suited for stuff like PDFs, comics and manga. The Kobo Elipsa and Kobo Sage both support stylus input as well for notetaking.
Kobo Size Comparison Specs
Below is the list of screen sizes, overall measurements, and weight for each model. Screen sizes are measured diagonally. Click the names for full written reviews and in-depth video reviews.
Kobo Elipsa 2E – 10.3″ screen – 193 x 227 x 7.5 mm – 390 grams
Kobo Sage – 8″ screen – 160.5 x 181.4 x 7.6 mm – 240.8 grams
Kobo Libra 2 – 7″ screen – 144.6 x 161.6 x 9 mm – 215 grams
Kobo Clara 2E – 6″ screen – 112.05 x 159.02 x 8.66 mm – 171 grams
Kobo Nia – 6″ screen – 112.4 x 159.3 x 9.2 mm – 172 grams
Kobo eReaders Size Comparison Video