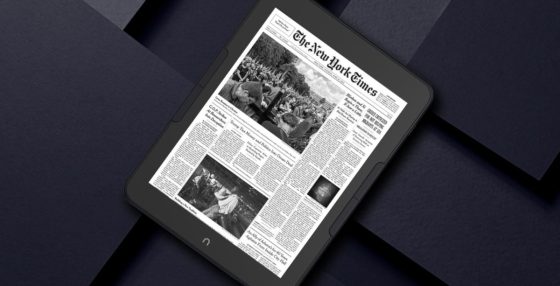 It looks like the new Nook GlowLight 4 Plus has started shipping ahead of schedule.
Barnes and Noble announced the new 7.8-inch Nook back in early July, after images of its upcoming release leaked in May. It's been available to pre-order from B&N's website for nearly 2 months now, and they indicated it would get released on September 6th.
Now the pre-order option is gone and the Nook GlowLight 4 Plus is available to order for $199 with free shipping (B&N Members can get 10% off). With expedited shipping the website shows it'll arrive in 2 days.
The new Nook is a follow-up to the first Nook GlowLight Plus that was released in 2019. It still has a 7.8-inch E Ink screen with 300 ppi, but there have been some other upgrades.
This new model has an updated design with a flush-front screen. It also has physical page-turn buttons on each side of the screen, and the device is waterproof (it's IPx7 rated).
B&N also added support for streaming and downloading audiobooks to this model. You can listen using Bluetooth or 3.5mm headphones.
Barnes and Noble doesn't post a detailed list of specs, but we do know the Nook GlowLight 4 Plus has 32GB of storage space and a USB-C port. Of course there's WiFi support too (802.11 b/g/n), and B&N still likes to point out that WiFi access is free in all B&N stores.
Battery life is rated at up to 3 weeks for reading, based on reading 30 minutes per day with the frontlight at 10% brightness and with wireless turned off. Battery life is rated at 9 hours for continuous audio playback over Bluetooth.
The dimensions are listed at 7.8″ x 5.8″ x .31″ and the weight is 285 grams. Like earlier Nooks, EPUB and PDF files are supported.
So what do you think about this new Nook? The price is quite a bit lower than other 7.8-inch ereaders.